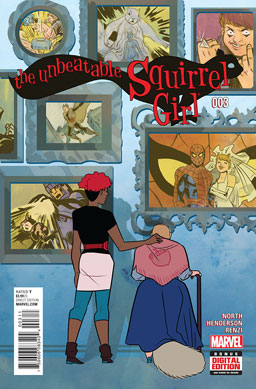 The Unbeatable Squirrel Girl #3
Squirrel Girl is trapped in the past, and no one in the present even remembers her, except for her roommate Nancy. Doctor Doom is hanging around gloating about his triumphs and earning the ire of passing superheroes, but Nancy, hoping she can get him to take her to the past to rescue Doreen, keeps telling everyone he's just a cosplayer. Meanwhile, back in the past, Doreen has rounded up a bunch of other people who've been banished to the past — but when he and Nancy show up, he decides he should just stay in the past and use his advanced tech and knowledge of future events to conquer the world before any superheroes start showing up. That couldn't possibly work, could it?
Verdict: Thumbs up. Just as much fun as ever. Stand out moments must be Jubilee taking a selfie with Doctor Doom, the fateful Wikipedia article from the future that tells how Doom won, and as always, the wonderful, madcap dialogue.
Lumberjanes #21
April wants to earn her knot-tying badge, but the camp counselor in charge of knot-tying, Seafarin' Karen, decrees that everyone in the cabin has to pass for anyone to get the badge. Karen reveals that she's been trapped at the camp ever since her ship was hijacked by selkies, who still float not far from shore to taunt Karen. They claim she's stolen the skins they use to change into seals, and she claims they use selkie magic to cause whirlpools every time anyone tries to get to the boat. But Karen is, like almost everyone else at camp, hiding a secret…
Verdict: Thumbs up. So wonderfully weird. The selkies are hilarious, April's homemade bestiary notebook is hilarious, Riley is hilarious, and Seafarin' Karen is hilarious and also pretty scary. Also, that cover is just fantastic, isn't it?