The Mighty Thor #3
Loki is back to being, at best, an anti-hero, and more likely, just a regular villain again. He does look an awful lot more like Tom Hiddleston than he used to. He tries to talk Thor into teaming up with him — but Jane Foster has had plenty of contact with Loki before, and he generally just tried to kill her to get back at Thor. So she knocks his head clean off. Of course, that's no way to kill the God of Lies, and he comes back with a horde of alternate Lokis, including Loki Classic, King Loki, Kid Loki, Teen Loki, Frost Giant Loki, Lady Loki, and even Cat Thor Loki from the Squirrel Girl comic. Does Thor have a chance against all of them?
Verdict: Thumbs up. Nice to see so many Lokis in one place, isn't it? Also liked Thor's rationale for knocking Loki's head off — he's always treated Jane Foster as nothing worth bothering with, which means she'd definitely be ready for payback.
Starfire #8
It's the second half of Starfire's team-up with secret agent Dick Grayson. There's some decent action stuff, and a lot of soap-opera stuff, most of it involving minor characters whose names I can't totally remember.
Verdict: Thumbs down. I ain't entirely knocking soap opera, because superhero comics would be damn boring without some soap opera. But most of this issue was soap opera, and it wasn't really much fun.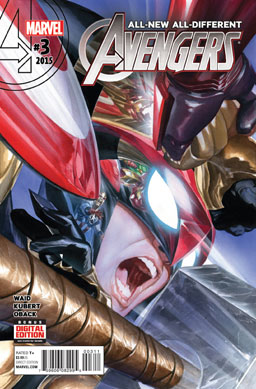 All-New All-Different Avengers #3
The Chitauri warlord called Warbringer just keeps kicking the Avengers' butts, though he does have secret assistance from Mr. Gryphon, the mysterious businessman who bought Avengers Tower. Warbringer is trying to assemble a device that'll bring hordes of Chitauri to Earth to conquer the planet for him. The team manages to get the pieces of the artifact away from him, but he's still powerful enough to easily beat the most powerful members of the group. So Spider-Man is going to have to activate the device and then destroy it with split-second timing so they can push Warbringer through the portal as it opens. Will the plan work? Or will there be other complications?
Verdict: Thumbs up. Not at all bad, decently tense — and it looks like the Vision being creepy and weird is something that's going to carry over into every comic he appears in…