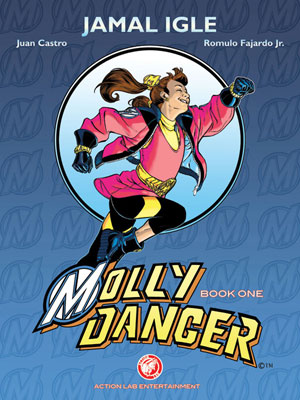 Molly Danger, Book One
I genuinely thought I'd reviewed this ages ago, and was completely surprised to discover I'd let it fall by the wayside. Time to remedy that problem before it's too late.
This comic was a labor of love for writer/artist Jamal Igle, and he only got to do it originally because of a very successful Kickstarter campaign. Our main character is, of course, Molly Danger, a super-strong, super-tough alien superhero in Coopersville, New York. She's also immortal — she looks like she's a ten-year-old human girl, but she's actually at least 30 years old.
She's also painfully lonely. The military organization in charge of Molly refuses to let her have contact with children her own age, and she get to meet very few civilians. They're apparently terrified that she'll accidentally harm a civilian — which seems a bit nuts for a superhero who's been active for about 20-30 years without killing scads of people…
Anyway, Molly gets to fight a couple supervillains — the super-smart brain-in-a-jar Medulla and his giant robot and the superspeedster Slipscott. She also gets help from Austin Briggs, a pilot for the cops and later for her own organization — he's a thrill-seeker who's willing to take on risks to help Molly get the bad guys — and ultimately, to help her connect with real people.
Verdict: Thumbs up. The art is fantastic, the action and dialogue are a thrill, and the humor is top-notch.
The characters are pretty grand. Molly is just fantastic — mostly rambunctious 10-year-old, though her more advanced age pops up here and there when she demonstrates that she's been trying to figure out what motivates the supervillains who plague her. She knows if she could figure out what they want, she'd have a chance to reform them. But for the most part, she's all about the action and taking risks — even more so when she has a chance to get to meet and hang out with kids her own age.
If I've got a complaint, it's that there haven't been more of these books. Molly's shown up in a small number of guest appearances in other Action Lab comics, and a new Kickstarter funded a new ongoing series — but dang, it's been a long wait…
If you love superhero comics — and especially if you've got daughters who love superhero comics and never get to see anyone like them getting to kick some tail — then you're probably going to enjoy this one. Go pick it up.