I think it's about time I reviewed an actual comic book, don't you? Let's take a look at Be Prepared.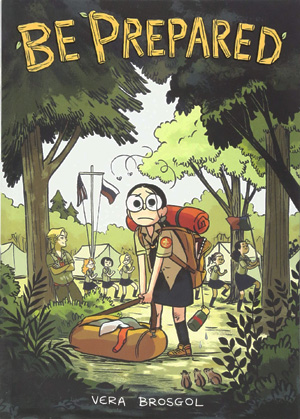 This middle-grade graphic novel by Vera Brosgol was published a couple years ago, but I only discovered it after finding it in our local library a couple months back. I remembered reading and enjoying another Brosgol comic — the thoroughly creepy "Anya's Ghost" — so I was definitely interested in this one.
Our story opens with a young Vera Brosgol, almost ten years old, and a bit of an outcast with her classmates. She's a Russian immigrant, fairly poor, she doesn't have the cool toys everyone else has, and she never gets to go to summer camp. But that changes when Vera learns of a camp just for Russian Orthodox kids. Her mother agrees to send Vera and her little brother Phil to the camp, and the grand adventures get underway!
But nope, turns out camp is absolutely awful in every possible way. Vera's tentmates are a couple of older girls who treat her like crap. There are no proper toilets, just bug-filled latrines. There's no candy allowed — but her mean-girl roommates have some and won't share. Vera doesn't know Russian as fluently as the other campers, which is a problem in a camp where everyone is required to speak Russian.
She even manages to bribe a few people into being her friends with gifts of her art and some candy she gets from her mother's visit — but even that falls to pieces and makes her more unpopular than ever. And because kids can be cruel, she even helps humiliate other campers, and feels worse about it than anyone else.
She does have some triumphs. She makes a friend or two. She has a few great encounters with nature. She ends up enjoying at least some of her camping trip.
But for the most part — ugh, camping is terrible.
Verdict: Thumbs up, believe it or not! Sure, Vera spends most of the story miserable, but it's still a wonderfully told story.
Brosgol's artwork, cartooning skills, and storytelling are first-rate, and the way she blends comedy with drama really helps pull the narrative along. Yes, you occasionally have to go put the book down and think about flowers because OH GOD, VERA STEPPED IN IT AGAIN, SHE'S GONNA BE MISERABLE but you also come back over and over, partly because she does get great moments where she's having fun, and partly because Brosgol manages to make it funny even when Vera is hating life.
And somewhat off-topic, but in both of the graphic novels I've read of Brosgol's, the lead character is a Russian-born preteen or teenager who is lonely and kinda sad, and she makes friends, but the friends are actually awful people who cause her more suffering. So Ms. Brosgol, I really do hope your life is happier now, 'cause I love reading your books.
Anyway — "Be Prepared" by Vera Brosgol. Go pick it up. Because summer camp is legitimately terrible, but this comic is legitimately great.