It's been ages since I reviewed any comics! Let's jump back into things with a look at Shadow of the Batgirl by Sarah Kuhn and Nicole Goux.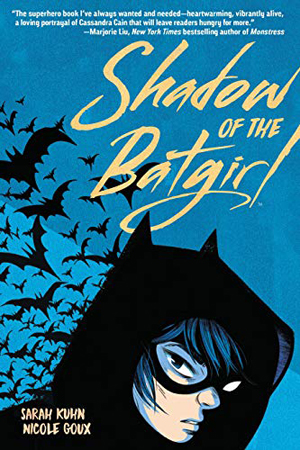 We start out with Cassandra Cain, brainwashed teenaged assassin, whose conditioning is unexpectedly broken when one of her victims leaves a brief final message for his daughter that shocks her out of her murderous programming. She spends a night in an alley before she's taken in for a meal by Jackie Yoneyama, an old woman who runs a restaurant. Cass isn't even able to thank her properly — she was trained by her father solely as an assassin, and she isn't even able to talk.
Cass runs away and finds herself confused and frightened by the noise and chaos of modern life — and being pursued by the other assassins in her father's employ. Soon she finds shelter in the Gotham Public Library, where she's able to hide, learn to read, practice her fighting skills on stacks of books, and eventually start making friends, including a wheelchair-bound librarian named Barbara Gordon and a boy closer to her age named Erik.
Can Cass learn more about the world around her? Can Jackie, Barbara, and Erik help her come out of her shell? Can she defend herself against her father's villainy and discover what happened to the long-vanished Batgirl?
Verdict: Thumbs up. Sarah Kuhn's story is fine — a tad slow around the middle, but it picks up wonderfully well before the end. Besides, the slower portions of the story are where the character building comes in — and there's so much great character detail in here. Lots of comics fans love Cassandra Cain, but this is a graphic novel for younger adults who might not be as familiar with Cass as everyone else is, and this comic gives her space to become a heroic character and a character who readers can love. That's a great gift — not just to readers, but to Cass as a character, who now gets a new generation of fans.
I'm also a big fan of Jackie Yoneyama. She's a new character created just for this book, but she was wonderfully realized. And she's the kind of character who should be present in more comics, and particularly in more Bat comics — a street-level civilian who isn't a victim, isn't a crook, isn't a future hero — just a connection to keep our main characters grounded as part of Gotham City. Even better — a character who runs a restaurant, because superheroes need somewhere to stop and get a bowl of ramen while fighting crime.
And let's give big props to Nicole Goux's stunning artwork, which rocks its way across every single page. And colorist Cris Peter really makes this book sing — shadowy libraries and rooftops, brilliant sunsets through windows, gloriously colorful clothing. The art and colors really make this book come to life.
Do you love Cass Cain, brilliant characters, beautiful artwork? You'll definitely want to pick this up.