So I was expecting November to be busy, but not quite this busy.
We're fostering a dog 'til sometime around the Thanksgiving holiday. It was largely unexpected — the paper has been running Pet of the Week features for a while, and I expected my primary contribution to the project was taking photos of dogs at the shelter and then writing short blurbs about them. But I'm realistic — I know not every dog can be rescued.
But my sister made some calls to friends and relatives about one specific dog, and when a cousin from the Big Bend area decided he'd like the dog, we ended up agreeing to foster him until we could get him transport down south.
Anyway, this is Baxter.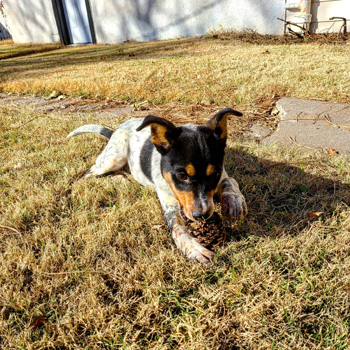 He's about three months old, and he's a handful. We've kept my sister's and brother's dogs occasionally when they went on vacation, but this is our first time having to raise up a dog from a very young age. We're trying to get him to learn his name, and how to recognize important words. We've taught him to accept being on a leash. We should probably be trying to teach him some commands.
We won't have a lot of time to teach him anything — he'll be taking the first leg of his trip to his forever home during the Thanksgiving break (unless we get snowed in, or unless we all get the 'rona, which is a serious danger right now).
We've only had him for a few days, and he's already very good at annoying me by chewing on my fingers and my shoes and my pants legs. And he's already got me loving him for his enthusiasm and intelligence and loving, playful nature.
So basically, remember when I said I probably wouldn't post a lot this month? It goes double or even triple now, 'cause I got this big baby to love on and/or suffer through…