Okay, let's get another review done! It's part comic book, part children's book, part musical tribute, and 100% fun — it's The Princess Who Saved Herself by Jonathan Coulton, Greg Pak, and Takeshi Miyazawa!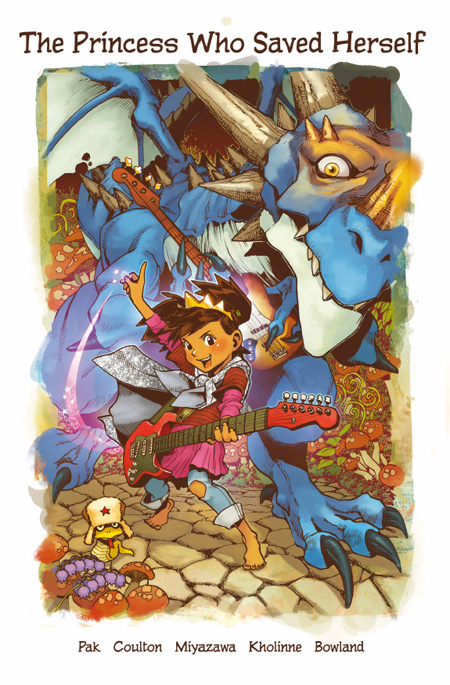 Mayhap you are familiar with Jonathan Coulton, the Internet's favorite musician, yes? And mayhap you are familiar with his wonderful song, "The Princess Who Saved Herself"? If not, here 'tis:
It's fun and jaunty! Hit the replay button, memorize the words, sing it all day long!
So writer Greg Pak and illustrator Takeshi Miyazawa decided they wanted to adapt the song as a comic/kids book. But they did something fun with it — rather than being just a straight adaptation of Coulton's song, we get a bit of an expansion.
Where the original focused on the dragon and the witch, this one gives us a few more complications, including a giant bee, a plague of darkness, and an unexpected fire — as well as a new motivation for the queen, a new resolution for the whole thing, and a truly wonderful name for the princess.
No, y'all, I ain't offering no further spoilers. This thing is only about 30 pages — the perfect length for a great mid-afternoon read for younger kids — and you should get all the enjoyment you can outta this thing.
Verdict: Thumbs up. It's frickin' delightful, people.
The story gives you a nice jolt of familiarity, especially if you know and love Coulton's song. And the rewritten and expanded tale also gives you some great surprises, too. Pak has tons of fun with the rhymes here.
Miyazawa's art is lots of fun, too. It's wonderfully appealing and charismatic, with metric tons of personality, emotion, and action. And it has lots of cute jokes and details hidden away so you can have fun re-reading it over and over. It really is a perfect combination of writing with art.
Also, props to colorist Jessica Kholinne, who helps make everything pop beautifully.
What else can I say, guys? It's frickin' delightful. If you're a fan of Coulton's music, if you love fun comics, if you've got kids who need this fun and inspiring story, you should go pick it up!