Okay, I'm 'bout to recommend you a book that I think is unquestionably beautiful and also deeply, desperately saddening. Let's review Random Acts of Senseless Violence by Jack Womack.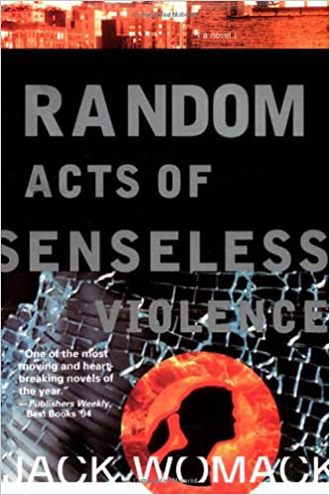 Some spoilers for the book will follow.
So this is a sci-fi novel, written back in 1993. It's part of Womack's "Dryco" series, but you don't have to read any of the other books to enjoy this.
The story is set in the nebulous near-future, in a United States beset by high unemployment, riots, and a rapidly decaying national government and society. Our lead character is a 12-year-old girl named Lola Hart. She goes to a prestigious private school for girls. Her father Michael is a screenwriter struggling to sell new scripts. Her mother Faye is a teacher who can't find a teaching job and uses Xanax and other pills a bit much. Her little sister is Cheryl, but everyone calls her, for unspecified reasons, Boob. (Boob's nickname for Lola is Booz.) They live in a nice apartment on 86th Street in New York City. Lola is keeping a diary, addressing every entry as if she were writing a letter to a fictional person named Anne. Lola has two best friends, Lori and Katherine.
Lola's life is about to go straight to hell.
So we follow her over the course of a terribly and shockingly short five months as the Harts lose more money, take terrible jobs, and lose their home. Multiple presidents are killed, either by assassination, accident, or "accident." The riots get worse, the government crackdowns get worse, and a new monetary system is created that seems to be designed to make everyone less secure.
Lola loses friends, explores her sexuality, and gains new friends who bring her into a new, more dangerous lifestyle even while they treat her with love, kindness, and support. She loses her family, too, bit by heartbreaking bit. She loses her new friends, too, and she loses the girl she loves most in the whole world. And she loses herself — or at least gains a new self.
And through her diary, we watch Lola gradually change from a typical prep-school teenager to an angry, murderous street rat. She gradually picks up new slang and attitude as the months pass — if you read the last page before you read the rest of the book, you may not understand what she's saying. But when you follow along with her life, you learn the slang as she uses it, and by the end, you can follow almost everything she says.
Verdict: Thumbs up. It's a tragedy and a deeply disheartening story, and it's also a glorious and beautiful book. Lola's life and passions, her friends and family, her downward spiral, and her joys, even amidst her new life, are all portrayed with compassion. This isn't tragedy porn — no one exults in Lola's pain. You feel her losses as you'd feel your own because Womack clearly loves Lola, her family, and her friends. But tragedies are not unheard of, in either fiction or real life. The history of war, refugees, dictatorships, and poverty are littered with people like the Harts.
The book is not well known among sci-fi fans, which writer Jo Walton attributes to a combination of the book's unwieldy title, cover art that was considered unappealing, a release schedule that allowed it to be overlooked during awards season, and the fact that it didn't really fit in with the most popular brands of science fiction at the time. But Walton and many others love the book dearly and can easily be encouraged to evangelize about its greatness.
I can't recommend this book for everyone — it's a heartbreaking tale, and not the sort of thing you want prowling in your mind as you contemplate your children's futures. But it's a beautifully written character study of a girl on her way over the edge, and if you can find it, it's worth a read.