Kill Shakespeare #4
Hamlet and Falstaff have just made a narrow escape from Richard III's men and are now stuck riding through the forest wearing dresses — thanks to a failed scheme of Falstaff's to disguise themselves as women. Falstaff takes Hamlet to an inn that's a secret organizing base for the resistance, and they meet two of the resistance's superstars — Juliet and Othello. They don't have very much confidence in a supposed Shadow King who wears a dress, but they don't have long to debate, as Richard's men soon attack the inn. Othello is one heck of a fighter, but will his warrior instincts hold up when he learns that his old enemy Iago is on the scene?
Verdict: Thumbs up. I'm still surprised I'm enjoying this as much as I am — I did suspect that it was a one-joke concept that wouldn't last beyond one or two issues, but I'm still very pleased with how it's developing. I've heard it described as "The League of Extraordinary Shakespeare Gentlemen," which isn't far off the mark.
Hellboy: The Storm #2
Nimue, destroyer of Merlin, murderer of Queen Mab, corruptor of the fae, is on the march — her goal is the death of mankind and the entire planet. Her champion is a gigantic monster transformed from a lowly hedgehog, and he has enough oomph to impale Hellboy on a spear. Of course, Hellboy can't really die anymore, and there isn't much he can't kill when he's armed with Excalibur, so he and his human friend Alice continue on their way, finding a pub to rest in, while Hellboy reminisces about his boyhood in New Mexico with Professor Bruttenholm.
Verdict: Thumbs up. This story mixes ancient mythology with a giant slugfest with more personal storytelling, and it all seems to work fine. I'm loving Duncan Fegredo's art here — it's fun and kinetic and personable.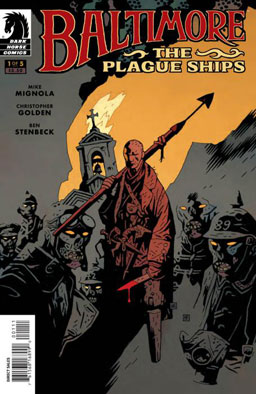 Baltimore: The Plague Ships #1
Well, there's this nobleman named Lord Henry Baltimore who's hunting vampires in a town plagued by an epidemic of, well, the plague. The vampires try to escape in an airship, but a local witch hexes it so it gets struck by lightning and explodes. Baltimore meets the witch and her beautiful daughter, who is desperate to escape from the town. Baltimore is imprisoned on suspicion of being in league with the devil, and the witch's daughter helps him escape, in exchange for letter her travel with him.
Verdict: Thumbs down. Maybe you need to have read Mike Mignola and Christopher Golden's "Baltimore" novel first… but that really shouldn't be a requirement. There should be something to explain the backstory of the main character and the setting, because if you don't have that, none of this makes much sense at all.
Today's Cool Links:
Comments off