Hulk #4
If you're looking for a comic with subtlety and savoir-faire, this is not the book for you. I mean, lookit this:
 
Any comic that starts out with the evil red Hulk socking Uatu the Watcher in the jaw is, well, the type of thing that's gonna make me giggle all freakin' day long.
Plot? Red Hulk and Green Hulk fight. S.H.I.E.L.D. Agent Clay Quartermain is found dead. We get a pretty definitive answer as to who the Red Hulk is. (And I was riiiiiight! Everyone do the herky dance! Ooo! Yeah! Shake it, baby! Yeah!) And we get a visit from the only other superhero who might have a chance of putting the Red Hulk down for the count.
Verdict: Thumbs up. Hulk battles, Uatu punching, and Scott being riiiiiight about the Hulk's identity equals out to big fun. You know what this calls for, people? That's right. This calls for Cameo.
 
George R.R. Martin's Wild Cards: The Hard Call #3
Alex is an electric-powered ace who wishes he were either dead or normal. Simon is his best friend, a ridiculous horndog who's acquired the power to teleport through mirrors. Kira used to be the girl Alex loved from afar, but she's been turned into a deformed joker — and she's vanished mysteriously. And the dog-masked ace who killed a nurse at the Jokertown clinic and stole a batch of the trump virus is now secretly dosing jokers with the trump virus — but the trump kills more often than it cures. When Alex goes looking for the infamous Croyd Crenson, will he be able to help, or will the immortal superpowered speedfreak just make things worse?
Verdict: Thumbs up. The story is rocking forward, as the dog-mask's plans become more clear, the mystery deepens, and the action picks up the pace. Alex is getting the hang of his powers, and Croyd looks like he's heading for his usual oh-so-familiar amped-up psychosis. It's also pretty cool how the cured jokers are addressed. Good fun, and worth picking up.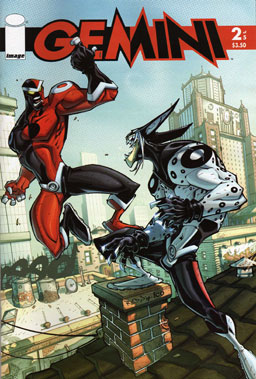 Gemini #2
Last issue, Gemini got his head blown clean off… but hey, he's got a healing factor, so it heals right back. Unfortunately, with his mask gone, his government monitors can no longer track him, and he can see his own face. How bad could that be? Well, since he's basically a controlled split personality whose two identities are completely unaware of each other, it's started him questioning who he is, why he's never seen his own face, and whether something's wrong with him. His government trackers enlist another government hero named Lynx to deactivate him. But there's another threat coming that has the ability to decommission him once and for all.
Verdict: Thumbs up. Fun story, great action, lots of intrigue. This Jay Faerber cat does pretty good writin'.
 
Green Lantern #32
We continue with this flashback retelling of Hal Jordan's origin. We see creepazoid Hector Hammond get his powers, we see Hal get permission to fly planes for Ferris Air, we meet Sinestro for the first time, and we see the demonic Atrocitus start tracking down the man who will ultimately found the Black Lanterns.
Verdict: I dunno, all this stuff is kinda cool, but most GL fans already knew it already. Sure, you can say it's a good way to introduce new readers to the characters, but this seems like the very long and inefficient way to do it. And I can't keep thinking that maybe we could be reading some new adventures of Green Lantern sometime?
 
Teen Titans #60
The final showdown between the Teen Titans and the Terror Titans is, well, a bit of a let-down. Most of the bad guys don't really put up much of a fight. The only one with any real skillz is Clock King, who can see far enough into the future to keep anyone from laying a glove on him. Ravager almost kills one of the bad guys, but is prevented by Wonder Girl. Clock King realizes that Ravager is a precog, too, so he asks her to join him. She turns him down, and the rest of the Titans make their getaway. But Robin and Wonder Girl decide they can't have a potential killer on their team, so Rose gets the heave-ho and goes back to the Clock King. Bummer. And it means it's time for yet another team membership revamp. Bleaaachhh.
Verdict: Most of it's actually pretty good, but I think I'm going to give it a thumbs down. Rose Wilson was developing into a very interesting character, and I'm really not thrilled about removing the team's conflict-magnet. And another team membership revamp? Bleaaachhh.
Comments off