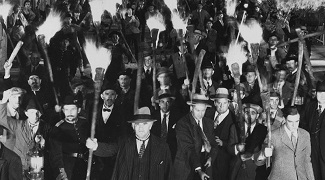 What a week. What a week, filled with disillusionment and disappointment and absolutely justified rage.
There are a lot of skeletons getting pulled out of closets and a lot of assholes and creeps taken to task.
Charles Brownstein is out at the Comic Book Legal Defense Fund — but he was allowed to resign, instead of being fired. And he got to stick around for 14 years after he'd been accused of abuse. And the CBLDF's statement is pitifully weak.
Dark Horse Comics has finally given Scott Allie the heave-ho, over 20 years after multiple reports of his abusive behavior. But Dark Horse was only pushed to action after Mike Mignola — no angel himself — threw his support behind Allie's victims. And there are way too many similar accusations directed at Dark Horse president Mike Richardson.
Warren Ellis, Cameron Stewart, and Jason Latour have been accused by multiple people of various creeper behaviors. Same goes for genre writers Sam Sykes and Myke Cole.
Max Temkin of Cards Against Humanity is out, and the entire company stands accused of widespread sexism and racism.
And to add additional insult to the pile of injuries, it was revealed that Mairghread Scott, who wrote the "Batgirl" series just a few years ago, was purposely excluded from planning meetings for the Bat books, with her plans for the book derailed from on high by the men who ran the meetings.
Our nerdy, fun hobbies have been infested with abusers for years — and it's not a recent phenomenon, judging from all we know about Isaac Asimov, Harlan Ellison, and Forrest J. Ackerman. We've known all this for years, and so many people have been yelling about the ongoing problems with racism and sexism in comics for decades. And the same damn shit keeps happening over and over and over.
I don't think I have any solutions to offer. I mean, I've got my ideas for what should be done — the CBLDF, Dark Horse, and Cards Against Humanity should cease to exist, for one thing. All three organizations are tainted to their core and have swept abuse under the rug for far too many years. I don't think they're worth preserving. But we also know that won't happen, and there's unlikely to be any significant improvement at any of them. They've been built on abuse, and they'll continue to abuse.
If Ellis, Stewart, Latour, Sykes, and Cole want to work toward redemption, that's on them, and good luck to 'em. But I don't plan to support them for a good long while, until they've been able to show they've improved their behavior in concrete, unquestionable ways.
And right now, I kinda feel like sci-fi and comics conventions were a mistake almost from the beginning, and I kinda wish they wouldn't come back in the post-COVID world. Yes, I know lots of creators make a decent sum of money from making appearances at conventions, and I wouldn't want anyone to give that up. But it sure seems like conventions have turned into creeper-fests. And the cons themselves rarely do enough work to keep the creeps under control.
Solutions more solid than that? I wish I knew. Keep supporting creators who aren't abusers would be the obvious thing — if only we knew which ones they were. And support people who've been victimized by abusers. Many of them were forced out of jobs by abusers, and they deserve better than they've got.
Comments off