Well, now, I've mentioned a time or two this fan-fiction contest that John Scalzi and Wil Wheaton are doing, right? Let's review, okay?
John Scalzi is a science fiction writer who has authored several books, including "Old Man's War," "Agent to the Stars," and "Zoe's Tale." He writes a popular and fairly mad blog called "Whatever."
Wil Wheaton is best known to most of y'all as Wesley Crusher from "Star Trek: The Next Generation," but in recent years, he's also gotten some popularity as a writer — he wrote a short memoir called "Dancing Barefoot" and has his own blog called "Wil Wheaton Dot Net."
Anyway, they decided to hold a fan-fiction contest to benefit the Lupus Alliance of America. You can read the full details about the contest over here, but here's the gist of it. Scalzi and Wheaton went to a painter named Jeff Zugale and commissioned this glorious painting: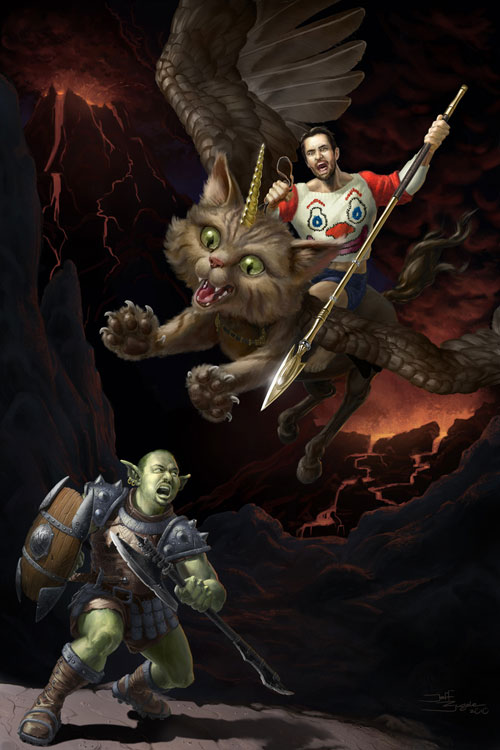 That's Wil Wheaton wearing a clown sweater and riding a pegasus-unicorn-kitten, attacking John Scalzi, who has been turned into a green-skinned orc.
This is among the most awesomely awesome things ever.
The contest requires entrants to write a 400-2,000-word story explaining what the heck is going on there.
The contest deadline is the end of this month, and you can still get an entry done, 'cause I wrote mine in about four hours. That either means I'm endlessly awesome, or delusionally incompetent, but fer sher, you can write one before the 30th.
As for the story I entered, you can read it by clicking the "Continue Reading" link below.
Comments off