Free Comic Book Day was Saturday, and it was a heck of a lot of fun. I got to go to both of Denton's comic book stores, stood in a surprisingly long line for one of them, bought some extra comics and games — some for me, some to give as gifts — and even got to see the very end of the Cinco de Mayo parade.
What were the comics I picked up? Let's run down the list.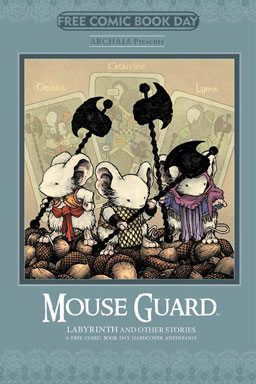 Mouse Guard, Labyrinth and Other Stories: A Free Comic Book Day Hardcover Anthology
Archaia published their second free hardcover in three years for FCBD, and that attention to quality alone got them to the top of the charts for me. Besides Mouse Guard and Labyrinth, the other stories include Ruse, Farscape, Bolivar, and Will O' The Wisp. Far and away, my favorite story was Mouse Guard, which is always pretty amazing but always seems to pull out all the stops for the FCBD books. Hope you were able to pick this one up, 'cause you sure ain't gettin' mine.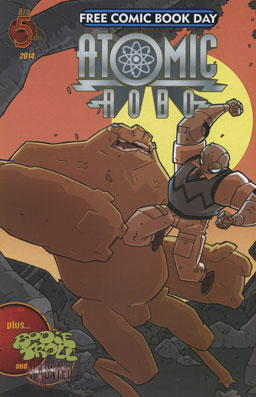 Atomic Robo/Bodie Troll/Haunted Free Comic Book Day 2014
Robo and the Action Scientists of Tesladyne travel to Centralia, Pennsylvania to hunt for the Yonkers Devil, while Bodie Troll embarks on a quest for a magical land of yummy food, all on the promise that he'll get something really awful to eat, and some ghosts chase people in "Haunted." For once, the Atomic Robo story wasn't the best of the batch — the Bodie Troll tale was charming and funny and wonderfully cartoony.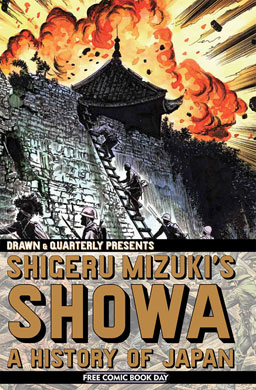 Shigeru Mizuki's Showa: A History of Japan
Funny and insightful autobiographical comics by a man drafted into the Japanese Army during World War II. Our hero starts out thinking army life is pretty easy and sweet, up until everyone in the army decides they should beat him up all the time. Plus we get a look into Japanese society during the war and the mad overconfidence that led their leaders to really believe they could conquer the whole world. This is a genuinely awesome comic — we don't often see nonfiction comics like this on Free Comic Book Day.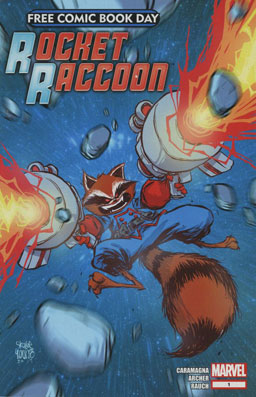 Rocket Raccoon
A fairly cute story about Rocket Raccoon and his funny-animal friends trying to rescue a princess, followed up by an all-ages adventure of Spider-Man, White Tiger, and Nova going into space to rescue Power Man and Iron Fist from a bunch of little green men and… a dentist? Fun reading for kids of all ages.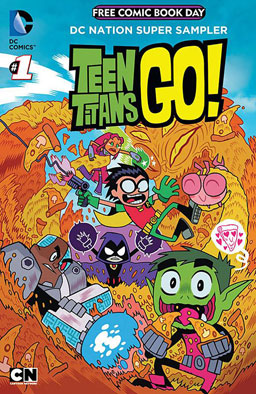 Teen Titans Go! FCBD Special Edition
Someone's been stealing Cyborg's food out of the fridge. Can Robin figure out the culprit? Will Cyborg's traps foil the thief? And will the team survive a round of mini-golf when the wagers get higher and higher? I've always had a soft spot in my heart for the Titans — this one has cute storytelling, and it's far less bloodthirsty, gory, and cynical than DC's other FCBD comic.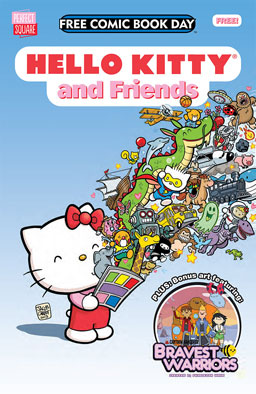 Hello Kitty and Friends
A collection of short Hello Kitty stories by numerous different creators, including Art Baltazar and Franco Aureliani of "Tiny Titans" fame, plus a few bonus pages from the Bravest Warriors series. The whole thing was pretty cute, as you'd expect from Hello Kitty — should be a winner for anyone who loves her brand of kawaii.
Comments off