Alright, my children, if it's Friday as you're reading this, that means you've successfully survived your Thanksgiving turkey-and-Skittles coma, and you're now ready to embark on the grand adventure known as… Black Friday. Soon (or hours ago, depending on whether you were fool enough to bother with the early-morning doorbuster sales) you will have to deal with your fellow human beings, who used to be normal, civilized people but have now devolved to the point where they'll eat their own grandmother's entrails if it means they can get a Furby for 10% off (after the 25% markup, of course).
Or, if you'd rather avoid all that ridiculous nonsense, you can get a gift that'll always be appreciated — comics!
Let's start this year with a new book by a some folks with Lubbock ties — Yarnvalanche! by Rachael and Josh Anderson.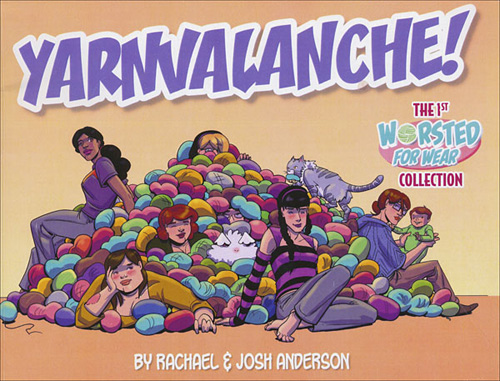 This is, as it says on the cover, the first collection of the Andersons' "Worsted for Wear" webcomic, which is a comic about knitting, crocheting, spinning, and all kinds of yarncraft. Our main character is Cam, a young woman obsessed with knitting who has managed to ensnare most of her friends into her hobby. Her friends come from all walks of life and are focused on all kinds of yarn crafting. One's a horror nut who loves to crochet creepy dolls; one runs a periodic web program that combines knitting and fitness; one is a secret knitter and a member of an all-guy knitting group. And one is a really, really fluffy bunny.
The group runs through all sorts of misadventures — the search for a meeting place for their knitting group, Cam's attempt to make a baby blanket in less than a week, their mostly in-vain attempts to keep from buying ridiculous amounts of yarn, some knitting haikus, and several discussions of just how macho knitting may be. And yes, this includes the question of whether Batman knits.
Verdict: Thumbs up. It's an excellent gag strip with strong doses of geek humor, slice-of-life, and a little outright surrealism. Combine that with Rachael's awesome art, and you got a winner of a comic strip.
The character work here is really outstanding. Everyone has very recognizable personalities and foibles — and even better, they're all drawn pretty realistically. In other words, they're all adult women with normal bodies — they're not busty supermodels, so some of them are overweight, some are fat, some have normal human builds. They look like normal people, and that's just plain awesome.
Oh, you think you won't be able to get this for the comic book reader in your life? That's the beauty of this one — you can get it for people who don't read comics. Got a friend or relative who likes to knit? Get them this, and you've introduced them to comics. You may not have them reading Daredevil any time soon, but we've all gotta start somewhere. It's even possible that you may be able to turn the comic reader in your life into a knitter. Stranger things have happened…
Yarnvalanche! by Rachael and Josh Anderson. It's good stuff. Go pick it up.
Comments off