Let's go ahead and hit the past few weeks' worth of horror comics, with some stories about haunted mansions, haunted asylums, and haunted cabins…
 
Locke and Key #1
The guy who wrote this is named Joe Hill — not familiar? It's Stephen King's son. So I guess this is pedigreed horror.
The plot here spotlights Tyler Locke, eldest son of the Locke family. After a couple of unbalanced teens make a deranged attack on the family, Tyler and the other surviving Lockes move to Lovecraft, Massachusetts, to live in the family's ancestral mansion, known for unspecified reasons as Keyhouse. There, Tyler tries to deal with the family trauma, piled on top of his own teen angst, while the lunatic killer makes deals with unsavory powers to escape the madhouse, and Tyler's little brother Bode finds a key that unlocks a very dangerous door.
Verdict: Thumbs up. Definitely a good introduction. Good characters, good dialogue, lots of tension. The story is definitely rated M for Mature — this ain't exactly the Groovie Ghoolies for pre-teens, ya know? Keyhouse is very interesting — I've got some suspicions about where the plot is about to go, but we'll see, won't we? I'm certainly looking forward to the rest of this comic — the first issue sold out awfully fast, and I hope I don't miss any of the rest of the series.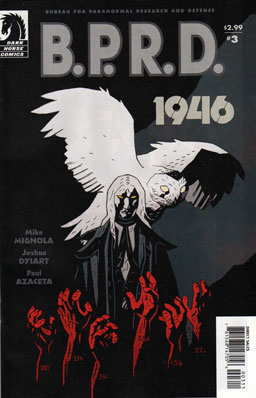 B.P.R.D.: 1946 #3
It's still 1946, and we're still focused on the first major adventure of Professor Bruttenholm and the Bureau for Paranormal Research and Defense. Last issue, we discovered a vampire in a barn and learned that Varvara, the adorable little girl who heads up the USSR's occult research division, is actually a powerful demon. In this issue, the Americans and Russians visit an abandoned insane asylum, where over a hundred maniacs were injected with vampire blood to turn them into monsters. Of course, the half-vampires attack under cover of darkness, several people lose their lives, and Bruttenholm and Varvara meet up with a full-blood vampire who has his own dire plans.
Verdict: Thumbs up. Nicely spooky, especially those scenes in the dark with half-vampires creeping up behind unsuspecting soldiers. Lone criticism: Things are a bit too chaotic, and it's hard to keep track of what's going on sometimes. Still, Varvara is such a horrible, horrible little girl, and Baron Konig is nicely creepy, too.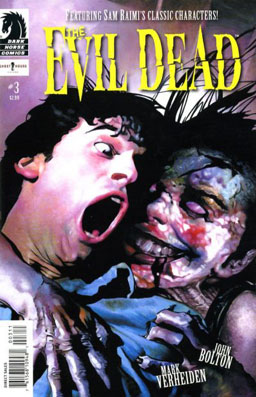 Evil Dead #3
This series continues its re-creation of Sam Raimi's horror classic, as Ash and his friends are slowly whittled away by the demonic forces inhabiting the cabin. Ash tries to hold on to his own humanity as everyone else gets possessed and turned into Deadites, but it's becoming more and more clear that his friends are beyond hope, and the only way for him to get out alive is to give in and start killing everyone…
Verdict: Thumbs up. I started out irritated that the series is so perfectly re-creating the movie, but I kept getting so into the groovy horror — it's been years since I saw the movie, and it really does feel good to get re-acquainted with the story and the characters. And John Bolton's paintings in this are fantastic. Can paintings of gory, horrific demon-possessed zombies be described as beautiful? I'm gonna go out on a (severed) limb here and say that they can, and they are.