Dang, it is long past time for me to do some more reviews. Let's take a look at one of the few comics I was able to buy last year: Dracula, Motherf**ker! by Alex de Campi and Erica Henderson.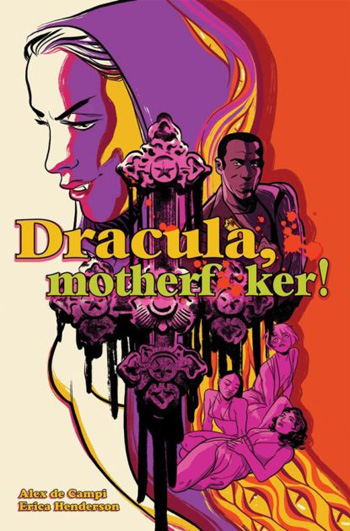 We start out with a quick three-page preview from 1889 Vienna as Dracula's brides turn on him, stake him into a coffin, and bury him.
And then we jump forward to 1974 Los Angeles, as a Hollywood starlet worrying about aging decides she may as well let the Lord of Darkness roam free.
After that, we meet Quincy Harker, an African-American photographer working to take pictures of gruesome murder scenes for the tabloids. And when he realizes somethings weird about some of the photos he's taken, he ends up on the radar of Dracula and his new brides. And his only hope for survival is… Dracula's old brides?
Does one schmuck with a camera have a hope in hell when matched up against the most powerful vampires on Earth?
Verdict: Thumbs up. Yeah, I didn't put a lot of plot description up there. It's not a long book — only about 70 pages long — and the plot is pretty straightforward. It don't need a complex, convoluted plot to deserve a thumbs-up.
This one started out not being a big favorite — Quincy mostly served as a helpless nobody who had stuff happen to him, or who got helplessly dragged along by others. But that was because I was assuming he was the protagonist, expecting him to be Jim Kelly in "Black Belt Jones."
But Quincy Harker isn't the protagonist. The brides are. Quincy is there as a witness, and he has his part to play in the story as our viewpoint character. But Dracula and the brides are the ones who move the story.
And jeezum wow, can we do some screamin' about the art on this book? So many of us are most familiar with Erica Henderson through her work on the very friendly "The Unbeatable Squirrel Girl," and this looks like she stored up every dark, bloody thought she's had for the past decade just so she could unleash it on the page here.
It's amazing, lush, absolutely glorious. The nighttime scenes of '70s L.A. are lusciously decadent, the costume design is beautiful, and the design of Dracula himself is like nothing you've ever seen before in any medium. Ain't very much human form for this guy — just eyes, mouths, and a couple of skinny, elongated arms. His design is the type of thing you'll probably see in a movie someday, from a design studio that'll probably have to pay Erica Henderson a decent chunk of change.
My lone quibble about this is the title. Dammit, I just want us to be able to say "Motherfucker" in the title of a book or comic and not have to resort to asterisks.
Anyway, this is a great book, and you should definitely go pick it up.