Genius #1
A couple weeks back, I got to interview Adam Freeman and Marc Bernardin, the writers of the latest entry in Top Cow's "Pilot Season," and last week, their new comic, "Genius," finally came out.
The story focuses on Destiny Ajaye, a teenaged girl who's managed to organize the gangs of Los Angeles into a trained army. She then takes all these different gangs, declares war on the LAPD, and gives the cops a good, solid, hardcore smackdown.
Verdict: Thumbs up. Love the characterization on Destiny — part tough-as-nails gangsta, part non-stop thinking machine. I love the way her thinking is visualized for the reader — a bunch of X's and O's and arrows denoting how far ahead she's thinking. And Afua Richardson's artwork is pretty much divine — could someone please get her some more work in the industry? This is really wonderful stuff — hope we get to see more of it.
Birds of Prey #119
The Birds set up shop in the mega-wealthy city of Platinum Flats with a front company called Clocktower Systems. Huntress takes down an armored goon who calls himself Carface. But the folks in town think the Birds are the ones attracting supervillains to the city, so they're not interested in giving them a warm welcome. Meanwhile, the Visionary, the bad guy who runs the local crime syndicate, puts the squeeze on the big-budget high-tech firms, Barbara is temporarily working with the supervillain hacker called the Calculator, and Manhunter's gig spying on Green Arrow, Black Canary, and Speedy comes to an abrupt end.
Verdict: Thumbs up. Lots of stuff happening. Carface is pretty funny, and the revelations about Calculator are pretty interesting. Also, umm, what's Manhunter's problem? She deserved the boot in the face, and there ain't actually any way she's gonna manage to beat up Black Canary.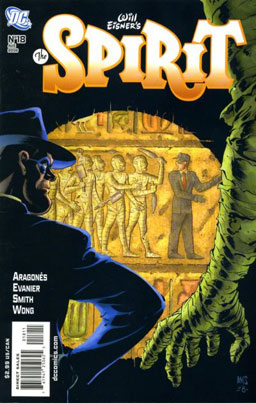 The Spirit #18
The Spirit travels to Egypt and back on the trail of mystery involving a bunch of mummies.
Verdict: This seems to be DC's most inconsistent series — sometimes good, sometimes rotten — but this time, it's getting a thumbs up. The mystery is pretty good, the action is fine, and the humor works pretty well, too. The bit with Spirit getting through the airport security check without ever having to take off his mask was pretty cute.