Hellboy: The Crooked Man #2
We got two horror masters working on this one. Mike Mignola, creator of Hellboy, handles the writing, while Richard Corben takes care of the art. Hellboy, Tom Ferrell, and Cora Fisher are heading for a church in the Appalachian Mountains to bury Tom's father. But the witches in the area — including the creepy, subterranean, monster-witches who live in the mines below — don't want Cora to get away from them, so they hex her until her body explodes with hordes of eyeless albino frogs, bats, snakes and centipedes! Yuck! When Tom and Hellboy finally get to the church, they find it mostly ruined, but the blind preacher who runs it tells them that Cora's soul was saved and that the church, as consecrated ground, is guaranteed safe ground from witches. But is it safe from the evil Crooked Man himself?
Verdict: Thumbs up. Very creepy. I mean, very, very creepy. Most Hellboy stories tend to have as much pulp action in 'em as horror, but this one, so far, is pretty pure scary stuff. Grand fun.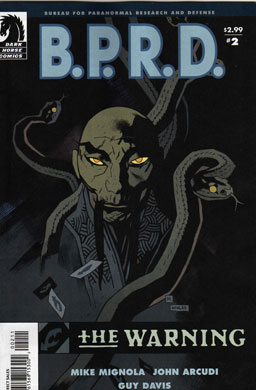 B.P.R.D.: The Warning #2
The entire B.P.R.D. team mobilizes to track down Gilfryd, the immortal mad sorceror who's been invading Liz Sherman's mind. They find his temple in the South American jungles, but they can't find him. Or rather, he won't let them find him. He puts the rest of the squad in a trance and appears to Liz alone, threatening to kill everyone if she doesn't come with him. Everyone else gets caught completely flat-footed — Liz vanishes, Gilfryd gets away, and they even lose their transport planes to sabotage.
Verdict: I think I'll give it a thumbs up. Nothing real fancy, but the story's advancing nicely, and we still get some good creepy moments.
 
The Goon #27
We take a break from our regular storyline to get a trio of stories here. First, Eric Powell brings us the, umm, heartwarming story of a zombie momma and her horde of gross but devoted zombie-monster babies. After that, Kyle Holtz sends the Goon and Frankie on a quest to track down the monstrous and smelly Skunk Ape in its new disguise. Finally, Rebecca Sugar has a short story about the criminal mad scientist Dr. Alloy. And Eric's letter column includes news about the cage fighter and roller derby team he's sponsoring. Plus, bank managers in South Africa and China want Eric to send them some money!
Verdict: Baby, I do believe "The Goon" always gets a thumbs up. Funny, goofy, gross, and weird, so it's got all the stuff I love.