The Goon: Theatre Bizarre
Well, the Goon didn't stay gone very long at all! He's already back for this early Halloween special. He, Franky, and Roscoe, the orphaned kid-werewolf, are working as roadies for a carnival. They get lost and end up in the Theatre Bizarre, an ancient carnival of monsters, endlessly corrupt and malign and decadent, run by a monstrous death's-head clown called Zombo. Of course, to Roscoe, it's just a really cool Halloween party, and to Franky, it's an excuse to look for hoochie-coochie girls. And to Roxi D'Lite, a real-life burlesque star who's previously guest-starred in this series, their visit is her opportunity to trick Franky into taking her place at this Carnival of the Damned. Will anyone escape, or will Zombo own their souls for eternity?
Verdict: Thumbs up. A return to the madcap, hilariously offensive Goon comics we've all come to love, and a bit of a hint of where the series will go after this. Plus John Dunivant's amazing artwork for the Theatre Bizarre (the Theatre is actually one of Dunivant's art projects) is stunningly beautiful and spooky. Go pick it up for some Halloween fun.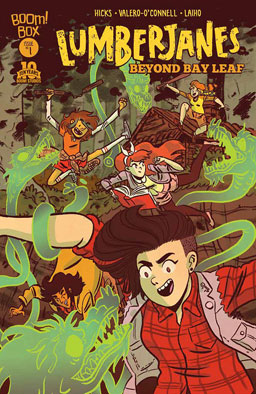 Lumberjanes: Beyond Bay Leaf #1
While the girls are out for a late-night stargazing outing with Jen, Ripley runs off chasing a ghost pony. The rest of the main cast loses her but runs into an ominous ogre masquerading as a primitive hunter. She says her name is Sola and she's chasing after the ghost pony because it's the only one she hasn't captured yet — and she notes that without Ripley, the Lumberjanes are "not a complete set." What is Sola's plan? Can Ripley help the ghost pony escape? Or will Sola imprison all of them for the rest of time?
Verdict: Thumbs up. It's a wonderfully creepy story with wonderful, fun art and a ton of wonderful humor. There are a bunch of outstanding character moments, too. Plus, hey, double-sized Lumberjanes annual — I know you want to make sure you got this one.
The Wicked + the Divine #15
Our focus character in this issue is Amaterasu, the British girl with the power of a Japanese sun goddess. Everyone's just discovered Tara's death, everyone's upset, and Urdr is not real accepting that, in her view, a British girl is cosplaying as one of the most important Shinto deities. Amaterasu takes Urdr to Japan, where they yell at each other, then have a heart-to-heart talk, and finally Amaterasu returns to her secret duty — prayers for the souls of the dead and dying — which includes all of the reborn gods…
Verdict: Thumbs up. A nice story about a character we've never gotten to see much of, with some great dialogue and nice art by Stephanie Hans. Also, read the letters — they're pretty good this time.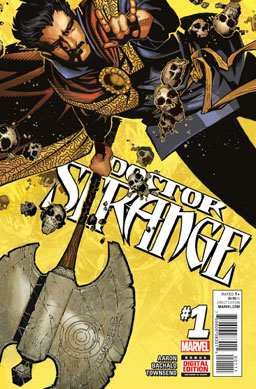 Doctor Strange #1
Marvel makes yet another try for an ongoing Doc Strange comic, this time written by Jason Aaron and illustrated by Chris Bachalo. This one does a fantastic job of going into the day-to-day crises of Strange's life — he doesn't just fight Dormammu, he takes on simple battles on behalf of individual people, expelling a tribe of soul-eaters from a young boy's body and patrolling the city for the few harmful parasites infesting New Yorkers' souls. He pays a visit to the mystical Bar with No Doors to meet with his fellow sorcerers. Something big and terrible may be coming, and no one will be ready for it…
Verdict: Thumbs up. Great writing and art, and I love Strange as a more personal superhero, fighting invisible battles and looking like a weirdo, but still able to be an action hero. Still haven't decided whether I want to pick up more of this series, but the first issue is quite good.
Comments off