Jonah Hex #33
I really should be a bigger fan of Jonah Hex — he's got the bad attitude, he's got the murderous skills, he's got the truly excellent facial scarring. But he's just never ended up appealing to me. Still, I had to pick this one up, just because it's got artwork by Darwyn Cooke, masterful illustrator of "The New Frontier," "The Spirit," and more. Anyway, this story takes place up in Canada during a harsh winter, far from the American Southwest where stories about Hex are usually set. We focus on a little boy whose father has just died, leaving the kid trapped in a blizzard and facing a pack of hungry wolves. Hex shows up and dispatches the wolves, but runs afoul of some Mounties who make the mistake of thinking Hex will be easy to kill. People should know better than to make mistakes around Jonah Hex.
Verdict: Thumbs up. Cooke's artwork is, of course, absolutely gorgeous. It's worth picking up for that alone, but I'm also pretty fond of the story. Hex saves the kid, but he doesn't actually care about him at all. He mostly ignores him and even backhands him at one point. But the kid's a quick learner and picks up a trick or two from the Meanest Gunfighter in the Old West. It's good fun. Maybe I ought to start picking this one up.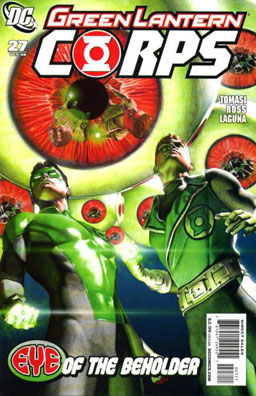 Green Lantern Corps #27
Guy Gardner and Kyle Rayner re-open Warriors restaurant on Oa as an intergalactic cop bar. Elsewhere, Morro, the Cryptkeeper of the Green Lanterns, lays Bzzd to rest and then meets another Green Lantern named Saarek who can commune with the dead. And somewhere else, someone is killing the families of Green Lanterns and later actually dumps their eyes on a bunch of rookies in training to demoralize them.
I think I'm going to give this a thumbs down. It seems to be the beginning of a new storyline, but it basically functioned as a placesaver issue. And the thing with the eyes, while suitably hardcore, seemed a bit too excessive for my liking.
And in unrelated blog news, posting may be light to nonexistent over the next few days. I've developed a minor but extremely painful medical condition (technical term: Axe in Face), and the pain is just too distracting to allow me to do very much writing. Hopefully, I can get all patched up today, but if not, I'll see ya when I see ya…