I still have plenty of gift recommendations to get through before Christmas. Today, let's look at Richard Stark's Parker: Slayground, adapted and illustrated by Darwyn Cooke.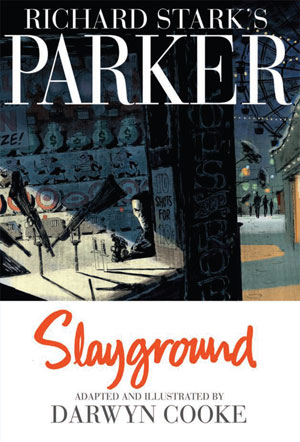 By now, I expect you know the general idea behind this series. Richard Stark was actually a mystery writer named Donald Westlake, and his series of hard-boiled crime novels about a heist artist named Parker has been quite popular for decades. Darwyn Cooke, who creates great retro-pulp comics like "DC: The New Frontier" and the "Spirit" revival from a few years ago, has done several graphic novel adaptations of the Parker novels. And this one is the latest one.
In "Slayground," Parker's latest heist has gone sour. He's made his escape into Fun Island, an amusement park in Buffalo, New York, that's been closed for the winter. Parker knows some cops saw him climb into the park — but they aren't coming after him. He quickly deduces that the cops are crooked, and they and a bunch of mafia goons are planning on coming after him, stealing the loot, and killing him to cover up their own crimes.
But it's a big park. And the longer they wait before they move in after him, the more time they give him to hide and to turn the rides and attractions into deathtraps under his control.
Verdict: Thumbs up. What's not to love? It's "Home Alone" with a sociopath in place of Macauley Culkin!
Seriously, I'm gonna go ahead and keep this fairly short. Y'all must know by now how much I love Cooke's Parker graphic novels. The big difference between this and the previous three is that there's a lot less heisting, a lot more action, and no gorgeous bombshells getting in Parker's way.
What's it got? It's got fantastic art, a thrilling story, great characters, and the distinct brand of awesomeness we've come to expect from the Parker books.
You want more in-depth analysis? Read my previous reviews of the Parker comics. You want it short and simple? This will be a great gift for anyone who loves crime comics, cool, retro artwork, and noir storytelling. Go pick it up.
Comments off