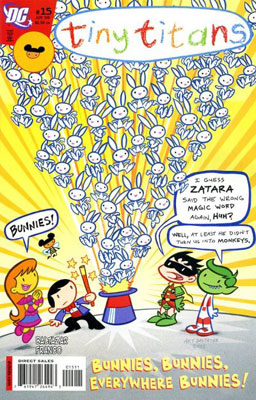 Tiny Titans #15
As you might expect from this cover, this issue features an astounding number of bunnies.
It's time for another meeting of the Pet Club, with Alfred laying down his ground rules to make sure that Stately Wayne Manor doesn't filled with bubbles again. Supergirl is back, with all her super-pets, including Beppo the Super-Monkey, and Zatara, the boy magician, is back, too, bringing his pet bunny Abby. Hey, remember what happened the last time Beppo and Zatara were together? That's right, Beppo got hold of Zatara's magic wand and turned all the Titans into monkeys! So what happens this time?
Soooo many bunnies… Soooo much Cute Overload… And "Ka-Bunny!" may be the greatest sound effect in history.
We also get treated to Rose Wilson babysitting the Tiny Terror Titans, Li'l Disruptor, Dreadbolt, Miss Persuader (and her Atomic Toothbrush), and Copperhead. She shows the kids what's under her eyepatch, then makes them some hot nachos. You wouldn't think something so simple would be so good, but it is. And finally, there's a quick epilogue where one of the bunnies reveals a completely unexpected secret.
Verdict: Thumbs up. Vast fun, made even better with a multitude of impossibly cute bunnies. Of all the all-ages books I read (and I'm still surprised that I read and enjoy so many of them), I think this is the one I always look forward to the most.