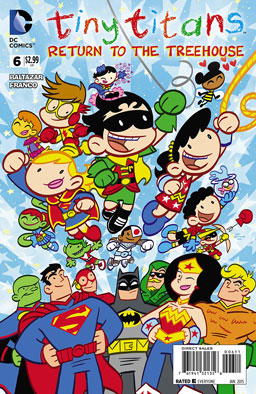 Tiny Titans: Return to the Treehouse #6
Cyborg uses his Justice League connections (he gets B'dg to activate a Boom Tube) so the Titans can get onto the JLA Watchtower to look for their lost Treehouse. Batman is sick of all this nonsense and gets Superman to activate another Boom Tube so he can lasso the Brainiac Club and the miniaturized Treehouse and drag it back home. And now the Titans have lots of different Treehouses from their various adventures during this series. But there's more trouble on the horizen. Principal Slade has given them all detention for activating Boom Tubes during class — and the detention monitor is… LUNCH LADY DARKSEID! Is this the end?
Verdict: Thumbs up. Well, it's kinda the end. But we get the implication that there are more Tiny Titans miniseries coming, which would be an entirely wonderful thing. The story itself is all kinds of fun, just like we've come to expect from everything Baltazar and Franco do.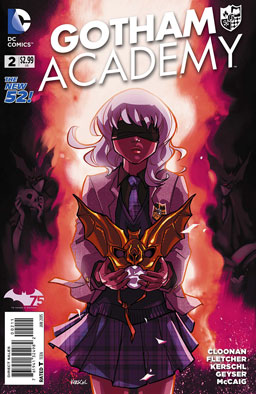 Gotham Academy #2
Olive Silverlock continues to have an angsty high school career in creepy Gotham Academy. She can't remember anything she did last summer, she doesn't know if she's even dating her boyfriend anymore, and did I mention how creepy Gotham Academy is? Aside from the weird schoolmates, creepy libraries and schoolrooms, and dogs randomly digging up human bones, there's the bat cult hiding out in the cemetery. What's Olive's connection to all this? Heck, who is Olive, really?
Verdict: Thumbs up. In a way, there's not a lot going on in this issue. I mean, there's so much teenaged angst — sometimes way more than you can take, or even understand. But I really do love the stuff going on in the background, the backgrounds, the throw-off characters, the weird stuff that just barely registers with you. And I'd really, really love to find out what Olive's deal is. She's got something big going on with her, but what it might be, I've got not one single clue.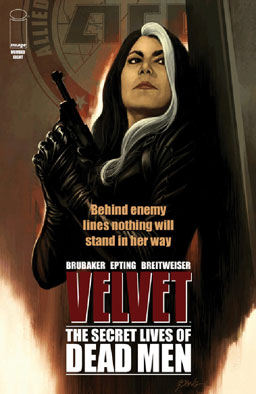 Velvet #8
Velvet has a thoroughly complicated plan to learn what's hidden inside the ARC 7 headquarters. First she has to kidnap the director, strap a fake bomb on him, take his picture, freak everyone out and get them to evacuate the building, then glide in on a spy-tech flight suit, subdue the one guy smart enough to figure out her plan, and then make one phone call on one very special phone. Who does she call? What's her next move?
Verdict: Thumbs up. Beautiful art, amazine action, wonderful plot and development — and I'd dearly love to learn more about what's happening next. Best espionage comic on the stands? I think it's pretty likely.
Today's Cool Links:
Comments off