I picked up a couple of comics yesterday starring people named either Buck or Bucky. Sometimes, the themes just fall into your lap. Let's see how they shaped up…
Captain America #50
James "Bucky" Barnes, better known as the current Captain America, as well as the old Captain America's original sidekick, is getting chased by a bunch of armored terrorists — not the best way to spend his birthday. And really, that's about it as far as the plot goes — most of this is taken up with flashbacks to some of Bucky's earlier birthdays during World War II, including one in the stockade and one with him, Cap, the Human Torch, and Toro being attacked by Nazi ubermensch.
Verdict: Thumbs up. Yeah, not a lot of plot, but the action is outstanding, the flashbacks are grand fun, and the dialogue and characterization are first-rate. Ed Brubaker and Luke Ross are really producing a great comic book here.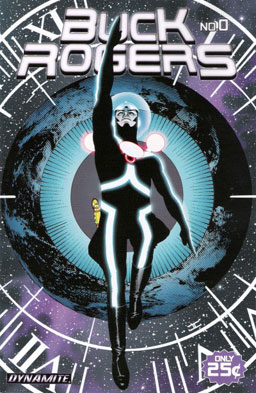 Buck Rogers #0
It took me a while to realize that this one was sitting by the counter with a price tag of just 25 cents. It's embarrassing that it took me so long to pick up on a bargain like that.
A preview issue for a new ongoing series about the sci-fi hero, this one starts with Buck captured by invading aliens who are actually giant-sized cells. He's able to give them the slip for a while, but they're on the verge of conquering the Earth. Will Buck Rogers have to sacrifice himself to save the planet?
Verdict: Thumbs up, mainly because it's just a quarter. A quarter! That's almost as good as "All in color for a dime"! Not entirely sure I'm enthused about the story — excellent artwork, interesting aliens, but I'm not sure there's enough in this preview to give me the ammo to recommend it or not.