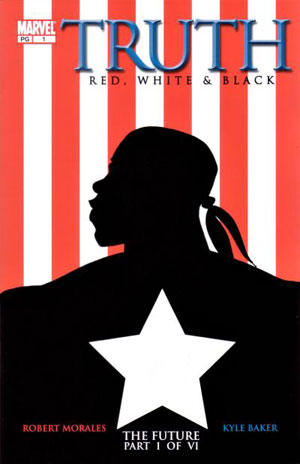 Truth: Red, White & Black
I've had a mind to review this one for ages, and African American History Month seems like a great time to do it. This was a seven-issue series published by Marvel back in 2003. It was written by the late Robert Morales and illustrated by Kyle Baker. It made a lot of racist douchegoblins really mad back in the day, so I figure it's certainly worth reading.
Our setup here is that, after Steve Rogers becomes Captain America and Professor Erskine, the secretive creator of the Super-Soldier formula, is killed, the military is desperate to recreate the formula. And since they have almost no idea what was in the formula, they have to experiment with a lot of different concoctions, and they have to experiment on people they don't give a damn about. So a bunch of black soldiers get recruited into the program, injected with variations of the formula, and die by the score.
"Why, that's ridiculous! Black people would never be experimented on like that! All lives matter!"
To which, all you really have to say is Tuskegee. Which went on for 40 years, primarily for the sake of plain ol' meanness.
Anyway, of the 300 men inducted into the new Super-Soldier program, only six survive, and are gifted with increased strength, stamina — and often, significant disfiguring mutations. They're sent on dangerous missions against the Nazis, and over time, a combination of battlefield casualties and deaths from the unstable Super-Soldier formulas whittles their number down to just one — Isaiah Bradley. Frustrated by the military's racist treatment and the inconsequential and foolish missions he's been sent on, Bradley steals a spare Captain America uniform and takes the fight to the Nazis by himself — and he gets captured.
The story doesn't take place entirely in the past — in the present day, Steve Rogers learns about the alternate Super-Soldier program for the first time and begins his own investigation of what happened to Isaiah Bradley. While he shuts down a number of racists who'd profited from exploiting black soldiers decades ago, he also discovers that Bradley's ultimate legacy was perhaps even more amazing than his wartime career.
Verdict: Thumbs up. It's a great story, with outstanding action, characterization, empathy, and unpredictability. There are several points where you think the story is going to go one way, but it completely surprises you and goes the other.
It's an intensely emotional book, too — not merely because the lead characters have strong emotions, but because the emotions are so realistic and raw. Early in the Super-Soldier testing process, the families of all the inductees are told that they've been killed — and many other black soldiers are actually murdered to cover up the crimes — and the toll on the families is covered extensively. The anguish that comes from these unexpected deaths is rendered amazingly well, and their pain is felt by the reader, too. It's not just the writing here — Kyle Baker's art really brings it home. Sometimes the sorrow is visible and unmistakable, and sometimes it's hidden below the surface, but it all feels real.
Baker's art is often very cartoony, which is initially a shock when you start reading. It's very far from the Marvel standard, but for the most part, it's something you get used to quickly. Baker is a cartoonist's cartoonist, and it's a thrill to see him work. His vision here is intensely important, too — you can tell the characters mean a lot to him, and he works hard to make everyone unique and interesting. His work is, like I said before, emotionally resonant, from the faces to the eyes to the body language.
The comic is obviously fiction, but Morales' appendix at the end of the book is definitely worth reading. He details some of his research and outlines how some of the scenes in the story were inspired. For history buffs, it's a good read and includes suggestions for other books worth checking out.
It's a sad comic in a lot of ways. But it's got its unique glories, too, in moments both crashing and quiet. It's also not at all easy to find — you can't get it from Amazon without paying $50 or more. But I found my copy a couple years ago in one of the local comic shops for a normal price, so do some digging around. You should also be able to find it digitally. If you can find it, you'll be very glad you got the opportunity to read it, so go pick it up.
Comments off