Dethklok versus the Goon
Oh, mercy. Someone up there must like me.
Who do we got here? We got "The Goon," Eric Powell's crude, hilarious, hyper-violent, horror-noir pulp, and we got Dethklok from Adult Swim's "Metalocalypse," Brendon Small's crude, hilarious, hyper-violent heavy-metal cartoon. It's all written and illustrated by Powell, with Small stepping in to help. We start out with an evil plot to control the world using William Murderface's inbred brain, combined with a brainwashed Dr. Rockzo the Rock and Roll Clown (He does cocaine!) trying to kill Dethklok. But things go improbably awry, leaving Dethklok's gigantic headquarters Mordhaus stuck in the same dimension as the Goon's Lonely Street. So the Goon and his pals initially mistake Dethklok for some of the new girls at the local brothel before some hijinx get started. Skwisgar does the nasty with Mama Norton, Rockzo introduces Franky to cocaine, Dethklok plays a concert, and the Goon slaughters untold multitudes of Dethklok's henchmen.
Verdict: You gotta ask? Thumbs up. This ain't deep storytelling, but if you love Dethklok and you love the Goon, you will love the bleeding screaming snot out of this. Powell is a lot better at drawing the Goon than he is at drawing Dethklok, but he's absolutely got the cartoon's brand of humor down perfectly. Tons of hilarious moments and lines here — I won't spoil the best line in the comic, but you'll know it when you see it. I also loved Murderface's reaction after their manager questions the wisdom of promoting the band's new album by shooting a thousand bald eagles out of a cannon and into George Washington's face on Mount Rushmore: "Well, I'm sorry! I didn't know you hated America!" And Dethklok's concert is just brilliant, as is Franky's critique of it — "What's that sound?! It tells me my skin is alive and it hates me!"
Repeating for emphasis: LOVED IT.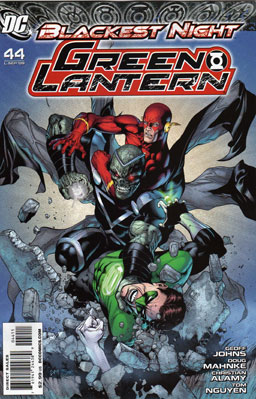 Green Lantern #44
The Blackest Night has started, as one of the black rings revives the Martian Manhunter, who goes after Hal Jordan and the recently resurrected Barry Allen. Do they have a chance against a shapeshifting telepathic zombie Martian Superman? I wouldn't bet on it. Meanwhile, the evil Guardian called Scar reveals to the other captured Guardians what's going on — emotions are the cause of chaos in the universe, so she plans to bring order by extinguishing all emotions and killing all sentient life. And John Stewart is about to find out what happens when the black rings zombify an entire planet.
Verdict: Thumbs up. J'onn makes an excellent villain here — tossing buildings, shapeshifting, reading minds, and decisively knocking the stuffing out of a couple of DC's heaviest hitters. The rationale behind Scar's plot is good, too, and I'm looking forward to seeing what a Black Lantern Planet is going to be like. And yes, Doug Mahnke really is the perfect artist for this — he does great action, he does wonderful square-jawed heroes, and his monsters and zombies are the best in the biz.