Madame Xanadu #13
In our current setting of 1940, Nimue's ability to foretell the future isn't helping her get any closer to the mysterious and murderous Al Nar and his diabolical black hound, so she turns to some of her other magical gifts — she sneaks into the city morgue and talks to a corpse. And she is able to get a new lead — the name of Richard Miller, a friend of both of the murdered men. But Miller isn't interested in any spooky stories, leaving him open to attack by Al Nar. And in our flashbacks to 1493, Nimue's close relationship with a local farm girl is getting a lot of hostile attention from the Inquisition. Can Madame Xanadu save herself and her friend before Torquemada decides to take them into custody?
Verdict: Thumbs up. Another beautiful, moody, and eerie story by Matt Wagner and William Kaluta, whose lush, retro art style is perfect for a comic set in the '40s. My favorite scenes here have got to be the mystical interrogation of the corpse in the morgue, which is jammed full of neat magical bits, and the scene where Madame Xanadu meets Wesley Dodds, the Golden Age Sandman.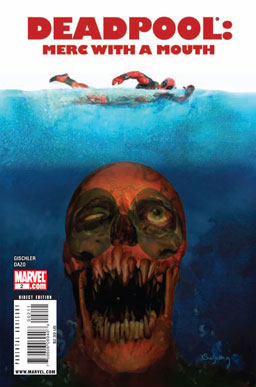 Deadpool: Merc with a Mouth #2
Zombie Head Deadpool and his caveman headhunter slaves have captured Regular Deadpool and his dishy A.I.M scientist buddy Dr. Betty. He tells his origin story — how he originated in the Marvel Zombies universe and got stuck here without the rest of his body. And speaking of the rest of his body, Zombie Head Deadpool has decided he'd like Regular Deadpool's body and assigns some of his headhunter goons to lop off Wade's noggin. But Regular Deadpool plans it out perfectly and gets them to chop off his arm instead. What the? Then he grabs his arm, Dr. Betty, and Zombie Head Deadpool and escapes from the cavemen. Then they fight off some dinosaurs and get captured by Hydra.
Verdict: Thumbs down. When you read all of that synopsis, it doesn't sound like the kind of thing that'd be boring, does it? But it's actually boring. And you really gotta work to make zombie heads, dishy evil scientists, a chopped-off arm, headhunter cavemen, and dinosaurs boring.