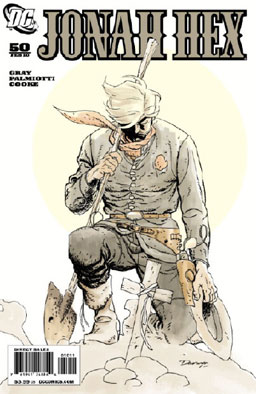 Jonah Hex #50
I just can't resist an issue of this comic when Darwyn Cooke is doing the artwork.
Scarred, cynical bounty hunter Jonah Hex is huntin' down ne'er-do-wells with Tallulah Black, a scarred, one-eyed bounty hunter — and Jonah's occasional lover. After she gives him the slip the next morning, Jonah is offered a chance to bring in a bunch of new bounties, all at the request of a wealthy oilman. The more he brings in, the more he stands to earn. So he sets off killin' a bunch of badmen. Meanwhile, Tallulah Black has turned up in a little town called Silver Springs. The sheriff doesn't trust her, but Tallulah wants to put her past behind her and try to become, if not respectable, at least not a bounty hunter anymore. Elsewhere, the remaining criminals on Jonah's hit-list confer to figure out a way to get rid of Hex — they decide to invade a small town, run off or kill the residents, and use it as a trap to lure Jonah to his death. The town they pick is Silver Springs.
A few months pass, and we learn that Tallulah's pregnant with Jonah's child, she's building herself a home, and getting along with most of the Silver Springs folks, except for the religious nut who helps run the dress shop. And right about time Tallulah's ready to give birth, the crooks finally invade Silver Springs, and Abigail, the aforementioned religious nut, slugs Tallulah over the head with a hammer, stabs her with a pair of scissors, and cuts the baby out of her, fleeing on the first train out of town. Jonah shows up in time to save Tallulah, and resolves to go track down Abigail and get the baby back.
Verdict: Thumbs up. Good grief, what a thumbs up. It's a done-in-one story, and it's more epic than every mega-crossover event you'll see this year and next. Aside from Darwyn Cooke's amazingly beautiful artwork (Check out that incredible supersized splash page on page 2!), the storytelling here by Justin Gray and Jimmy Palmiotti is absolutely pitch-perfect for everything you'd want from a "Jonah Hex" comic — funny, grim, heartbreaking, terrifying, hard-bitten, and cynical. The dialogue just sings, especially between Tallulah and the sheriff. The last page is just outstanding, without a word being said. Go get it, y'all.
North 40 #6
Sacrifices have been made, and Cthulhu — or something very much like him — is loose in Conover County. Wyatt Hinkle, Amanda Walker, and Sheriff Morgan are in a desperate race to lead the monster-god to water so they can perform a ceremony to banish it. We learn some new insights about some of our players, get one more confrontation with the awful Atterhull clan. But even if the monster can be destroyed, what other threats are ahead for the mystically transformed county residents?
Verdict: Thumbs up. This whole series has been a great big wad of fun. And a nice crisis to finish things off. Even better, they're still able to add new monsters and freaks into the mix clear up to the end. I sure hope they make this one a continuing series, 'cause I'd love to read more of this stuff.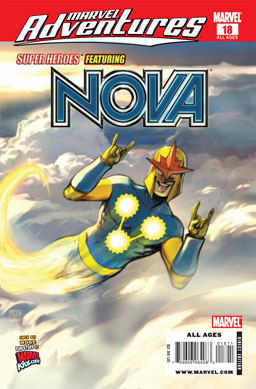 Marvel Adventures: Super Heroes #18
Captain America, Iron Man, Thor, the Vision, and the Invisible Woman are investigating worldwide incidents of towns suffering from uncontrollable fits of rage and violence. They visit a small village in England, where Nova and some of his friends are on the trail of a spriggan, an unpleasant kind of faerie. And they're all joined by the Black Widow, who's bored and looking for some excitement. Can all these heroes figure out how to work together as a team?
Verdict: Ehh, not bad, but not a completely enthusiastic thumbs up. There are some nice moments here, but I can't get over the weird composition of this team. They're calling themselves the Avengers — does that mean there's not a "Marvel Adventures: Avengers" comic anymore? I was a big fan of that one. Nova and Black Widow really don't seem like the kinds of characters you'd want on a new "Avengers" squad like this. And it seems strange to see Sue Storm outside of the Fantastic Four — and wearing that green-and-red costume…