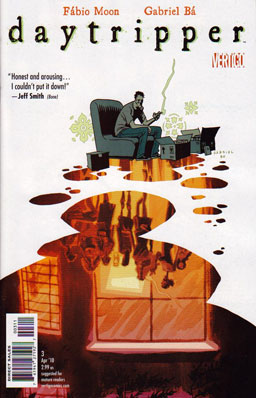 Daytripper #3
Seven years have passed since the events from the last issue, and Brás de Oliva Domingos' relationship with Olinda has irretrievably soured. He goes through a few weeks of miserable loneliness, his friend Jorge and his father both trying to give him pep talks, before he finally runs into a girl he feels an instant attraction for while at the grocery. He starts to go on with his life, then decides he must at least try to meet her. And then something unexpected happens.
Verdict: Thumbs up. Gabriel Bá and Fábio Moon are turning out a fascinating series. The artwork is outstanding, the writing is fantastic, and the mystery behind the entire series is getting more and more interesting with every issue.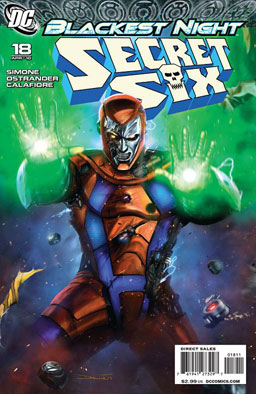 Secret Six #18
The Secret Six and the Suicide Squad are under attack at Belle Reve Prison by a squadron of Black Lantern zombies consisting of dead prisoners and dead Suicide Squad members. They all run for the Six's headquarters, which Amanda Waller has put the torch to. Of course, the zombies follow, and another big fight erupts. Knowing they need something to even the odds, Waller has Nightshade teleport her back to Belle Reve to pick up a remote-controlled Manhunter robot. But can even it turn the tide?
Verdict: Thumbs up. Great action and great characterization, even among all the zombie-fighting. And there's a genuine shocker ending you'll have to see to disbelieve.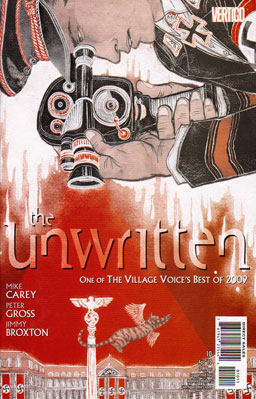 The Unwritten #10
Tom Taylor, Lizzie Hexam, and Richard Savoy have escaped from prison — and possibly landed somewhere much worse — Nazi Germany. On the bright side, it's some sort of hologram of Nazi Germany — no one can see them or touch them. Nevertheless, something has clearly gone bad wrong somewhere, and everyone is hopelessly lost. Back in the real world, Governor Chadron has taken on his new role as the vampire Count Ambrosio and is willing to do anything to get his claws on Tommy again. Back in the Germany hologram, Lizzie tries to contact her patrons, and Tom and Savoy meet Joseph Goebbels, the Nazis' head propagandist — and he can see Tom and Savoy just fine. And if he can see them, is there anything else he can do to them?
Verdict: Thumbs up. A big crazy scene-shift, so there's some story derailment, since we don't yet know what the Germany hallucination is about. But the ongoing mystery is getting more interesting, and Tom's complete inexperience with this stuff means he's in severe danger.