So Batman, what do you like to eat after a long night of fighting crime?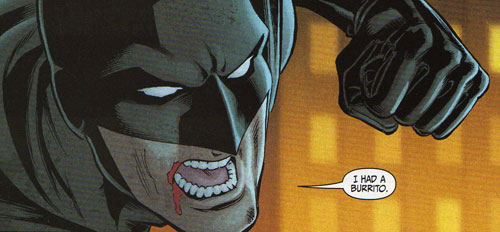 Sounds good to me! Here, have a napkin.
This Saturday, April 10th, is going to be Lubbock Sketch Club Appreciation Day at Freebirds, at 4930 South Loop 289, Suite 250. That's during the regular Sketch Night from 7-10 p.m.. If you're in the Sketch Club, drop by, make some art, and chips and dip will be on the house. And if you're not a Sketch Club member — sounds like it'd be a good time to go meet some artists, don't it?
And speaking of meeting artists, that sounds like a nice cue to mention the Lubbock Comic Book Expo again. Remember, it's scheduled for the weekend after next — April 17-18, during the Lubbock Arts Festival, at the Lubbock Municipal Civic Center at 1501 Mac Davis Lane. It'll run from 10 a.m. to 8 p.m. on Saturday and 11 a.m. to 5 p.m. on Sunday. Admission to the Expo is completely free! And admission to the Arts Festival is just two bucks. Dude, bring an extra two bucks and go check out the rest of the art, too, a'ight?
Don't miss out, or there will be hurtin'.