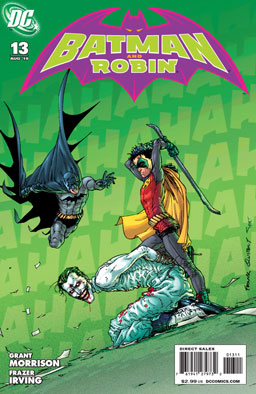 Batman and Robin #13
Oberon Sexton's true identity has been revealed — not a masked detective and mystery writer, he's actually the Joker. He claims to have turned over a new leaf without the old Batman around to torment, but can anyone trust anything he says? Dick Grayson soon determines that Dr. Hurt, the man who tried to kill Bruce Wayne and claimed to be either Dr. Thomas Wayne or the Devil, is back on the scene and has managed to infect almost everyone in Gotham City with a contagious addiction. And while Robin confronts the Joker and prepares to beat him to death with a crowbar, Dick and Commissioner Gordon come under attack from Professor Pyg's Dollotrons.
Verdict: Thumbs up. Amazing artwork from Frazer Irving, amazing writing from Grant Morrison. Lots of dominos being uncovered, lots more falling. Everything with the Joker is brilliant — I really can't tell right now if he's reformed because his Batman is gone or if he's just pulling another scam. We don't see much of Dr. Hurt, but what we do see is wonderful and scary. I get the feeling this storyarc is going to be pretty awesome.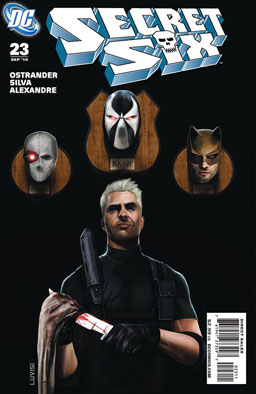 Secret Six #23
This one is apparently a flashback, an untold story, dating from before Issue #19. Don't know why we're not seeing it 'til now, but ehh, whatever. We're on a Carribean island where a kingpin called himself Nero has set up a special hunting range for a bunch of wealthy psychopaths allowing them to hunt and kill human beings using powered armor and remote-controlled drones. But killing a bunch of normals isn't all that much fun for these guys. But Nero has a treat in store — he's hired the Secret Six for a job — or in reality, so he can set them up as the prey for the next day's hunt. Anyone wanna guess how this one's going to end?
Verdict: Thumbs up. Sometimes, it's just fun to see rich douchemooks bite off more than they can chew.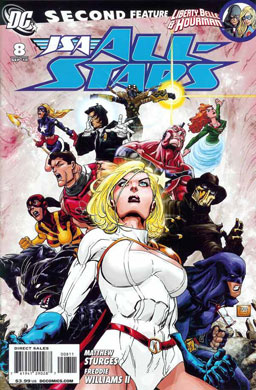 JSA All-Stars #8
So there's this South American country called Parador, and they're killing crooks in the US by basically sacrificing some of them to their weird gods and dosing others with a drug that makes them see their weird gods. Sounds like a pretty, um, weird country. After Cyclone tries to start up a relationship with King Chimera, most of the team travels to Parador where they end up running into some of the Paradoran gods, including some leopard and monkey monsters and a giant spider.
Verdict: A little from Column A, a little from Column B. It's a bit of a confusing plotline, but it's playing out well. Maybe it'll make more sense later.
Today's Cool Links: