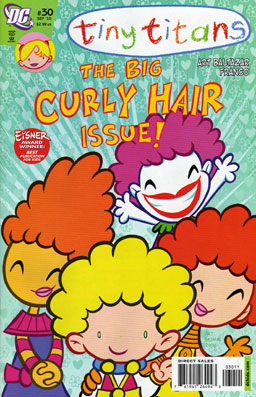 Tiny Titans #30
The plot on this one seems pretty straightforward — Kid Flash is racing all over town, and everyone he zips past ends up getting crazy curly hair from his backdraft. Cassie and Starfire look fine with curly hair, Rose looks a little weird, and Robin and Superboy look really, really goofy. All that, plus Peek-a-Boo makes her first appearance in the TinyTitansverse and steals Kid Flash's heart. Anything else? Oh, yeah, Ambush Bug shows up, too. He doesn't do much, but just the idea that we'll see more of him here in the future makes me entirely happy.
Verdict: Thumbs up. As always, it's cute, funny, and awesome. My local comic shop mentioned to me today that this series is collected by a lot more adults than kids — do they just groove on the fun stories? Or are they enjoying a Titans series that's not dominated by angst and gloom?
Marvel Adventures: Super Heroes #4
The Avengers end up getting recruited to help bounty hunter Kraven the Hunter capture Deadpool. That leads to two problems: Deadpool is very, very good at getting away from people trying to catch him, and Kraven is very, very good at endangering civilians and making Captain America angry. All that, plus Sue Storm and the Blonde Phantom trail an incognito Sub-Mariner.
Verdict: Thumbs up, but just barely. The whole thing is a little bit too busy, and the ending is a bit weak. I'm also not thrilled about yet another Deadpool appearance in the way-too-Deadpool-centric Marvel Universe. Nevertheless, the art's nice, the writing is pretty good, and the characterizations are fun.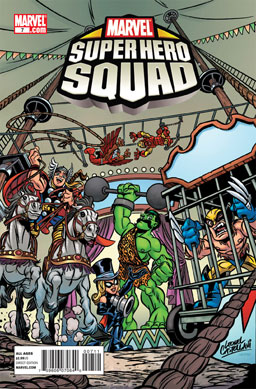 Marvel Super Hero Squad #7
The Ringmaster hypnotizes the Super Hero Squad and makes them perform in — what else? — a circus, while Dr. Doom sends the Toad, Screaming Mimi, Paste-Pot Pete, and the Melter to infiltrate the S.H.I.E.L.D. Helicarrier and steal all their fractals. Can Captain America save the Squad and the fractals?
Verdict: I'm going to thumbs this one down. Ya promise me a circus issue, ya better deliver more than a couple of pages of circus stuff. The dialogue from the bad guys on the Helicarrier was nice, but it really should've been a separate story from the one with the Ringmaster.
Today's Cool Links: