Hellboy/Beasts of Burden: Sacrifice
Mike Mignola's red-skinned paranormal investigator teaming up with Evan Dorkin and Jill Thompson's four-legged spellcasters? Is there any way in the world this would not completely rock?
Verdict: Yes, it completely rocks. Mignola and Dorkin worked together on the script for this, and the result is big on action, supernatural weirdness, great dialogue, and great humor. Puggsley, normally the comic relief, gets his chance to shine — heck, everyone gets their chance to shine. It's a grand story all around, and I'm glad the creators got together to make it happen.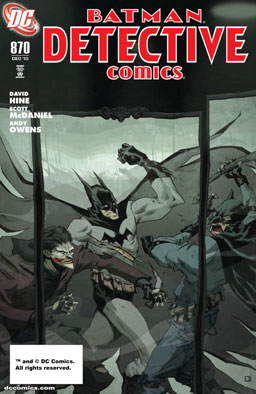 Detective Comics #870
The conclusion of the Imposter Wars storyarc has the Jokerz and the Guardian Bats going to war in the middle of a carnival. It's no great surprise that the deformed Winslow Heath is behind both the Jokerz and the Guardian Bats, but what is surprising and horrifying is the personal reason behind his madness — and it's not just the Joker Venom he was exposed to years ago…
Verdict: Thumbs up. A nice end to the storyline. Granted, it's an extremely downbeat and grim ending, but it's likely the ending we had coming all along.
Madame Xanadu #28
It's 1966, and Charlotte Blackwood is a college student who's just had her first LSD experience. Unfortunately, once she comes off the trip, everything is vastly different for her — she can't eat anything without experiencing its entire life-cycle. Tough enough when she has visions of wheat being harvested when she eats a bowl of cereal, but much worse when she feels what it's like to die in a slaughterhouse while eating a hamburger. Can Madame Xanadu help her?
Verdict: Thumbs up. Good story, great hook, and Marian Churchland's art really works well for this story.
Justice Society of America #44
New writer and artist on this series, and they've decided to celebrate by completely blowing up the team's status quo again. Jay Garrick wants to retire as a superhero, Mr. Terrific is slowly losing his intelligence, a metahuman terrorist breaks Green Lantern's neck, and corralling the terrorist means the team has to almost destroy a city to get him under control.
Verdict: Thumbs down. I remember when this title was the very best thing DC was publishing. Not anymore. And I'm done subjecting myself to the continuing decline of a once-great series.