Beasts of Burden: Hunters and Gatherers
Yay, a one-shot of Evan Dorkin and Jill Thompson's outstanding "Beasts of Burden!" These don't come out often, but they're always great fun to read.
There's bad news on the way for the monster-fighting pets of Burden Hill — the Wise Dogs who help back them up in times of crisis are going to have to give them even less help than normal — the whole area is faced with various supernatural crises, and they have too much work to do. And there are already some serious problems the Burden Hill pets have to face — like the giant invisible monster chasing down and eating pets and people in the area! They manage to vanquish that foe — barely — and we get an opportunity to see some of the other animals in town, some of which are appreciative, some of which are dismissive, and some of which — like the rats and the crows — are likely to become serious threats in the future.
Verdict: Thumbs up. Love this series so very much. The art and writing are both fantastic, the characters and dialogue are always fun, and the action, humor, and creeping sense of foreboding are beautifully done. You shouldn't just get this issue — you should find every possible comic from this series.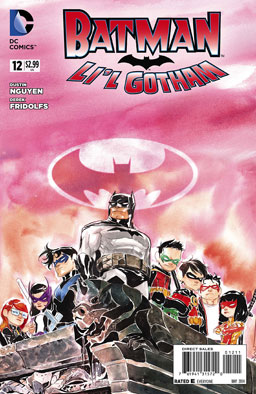 Batman: Li'l Gotham #12
Our first story features Batman and Robin searching for Damian's lost pet turkey, Damian — they're not making a lot of progress because people keep making jokes about losing a turkey so close to Thanksgiving. In the end, they find Jerry in a fast food restaurant, held hostage by a new supervillain called the Condiment King! He specializes in squirting people with condiments, and he has a bunch of fast-food-themed henchmen. Will the Dynamic Duo be able to stop the villains and save Jerry? In the backup tale, Alfred tells Damian about the various members of the Bat-Family in the Wayne family album, and the heroes even help spread holiday cheer.
Verdict: Thumbs up. As always, it's cute, fun artwork, and funny, family-friendly storytelling. My lone quibble? This is the final issue of this series! Man, that is monumentally no fair.
Today's Cool Links:
A great interview with Ed Piskor on hip hop and comic books.
If you're going to freak out this hard about a haboob, I hope you'll remember that our numerals and system of writing came from the Muslim world, too, so you'll never write anything on the Internet again.
It's always a good time to talk about compassion. Because our leaders and pundits are usually running on a severe compassion deficit.
Comments off