Marvel Adventures: Super Heroes #9
Man, I love the cover art for this one. Great work, cover artist Ronan Cliquet!
This issue's story is fairly simple: Nova has learned that there is an impostor hiding out in the Avengers, so while the rest of the team fight giant monsters, he and the Vision (and the Vision's girlfriend) investigate everyone by sneaking into their rooms and digging around in their sock drawers. Superheroes are kinky.
Verdict: Thumbs up. Seriously, it was a nicely tense story, even if I question some of the reasoning here — why would Nova pick the Vision as his investigating partner instead of Thor, who also knows about the impostor? Still, good fun, nice dialogue, another well-done issue.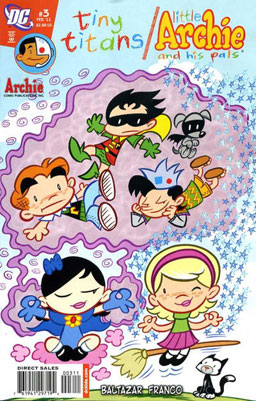 Tiny Titans/Little Archie #3
Raven and Sabrina hang out at Pop's Chocklit Shoppe, Veronica drags Robin along to meet her dad, Archie gets to spend the day playing in the Batcave, and Jughead and Cyborg compete in a hamburger-eating contest.
Verdict: Thumbs up. Lots of fun. Fave moments: Archie running wild in the Batcave, with all the bats and penguins and rabbits; Mr. Lodge's utter contempt for anyone his daughter brings home; and Batman calling the Joker to ask if he knows of any supervillains who have kids with orange hair.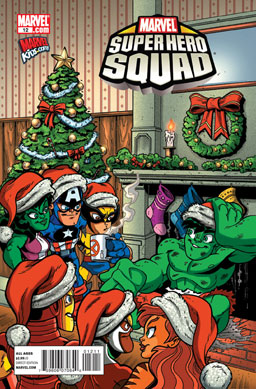 Marvel Super Hero Squad #12
Yay, Christmas issue! Santa's sleigh crashes into the heli-carrier, forcing the Super Hero Squad to dress up in Santa costumes and run around the city delivering presents. Possibly even better is the backup story, where the X-Men reveal that Rudolf is the most famous mutant of all, before they embark on an insane toboggan race.
Verdict: Thumbs up. Lots of funny stuff here, cute dialogue, and a nicely seasonal dose of mayhem. The bit with Rudolf the Red-Nosed Reindeer as a mutant is really pretty epic.