Unwritten #21
Tom Taylor is trapped inside "Moby-Dick," Herman Melville's novel, and he has no idea how to get out. And Captain Ahab is a dead ringer for his father, Wilson Taylor. When Tom calls "Ahab" his father, he's assumed to be temporarily deranged and thrown belowdecks. Tom tries to escape using his magic crystal doorknob, but he's told by the suddenly appearing Frankenstein's Monster that he can only break out of the novel at its points of equilibrium — either the very beginning or the very end. Meanwhile, back in the real world, Lizzie and Savoy have been kidnapped by the magical puppeteer, who intends to make them tell her all they know about Wilson's plans.
Verdict: Thumbs up. Loved everything set in the novel, and it was nice to see the puppeteer's true abilities — though not particularly nice from Lizzie and Savoy's point of view…
Batman and Robin #19
Dick and Damian blunder into another trap set by Una Nemo, Bruce Wayne's ex-girlfriend turned hole-headed supervillain. She quickly sets them up in a deathtrap with a couple of power drills aimed at their foreheads. Can they get out of the brain-scrambling trap in time? No way…
Verdict: Thumbs down. Sorry, but it bored me. Too much deathtrap and not a smidgen of suspense.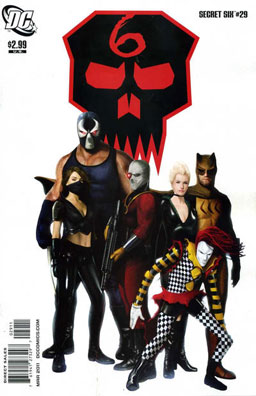 Secret Six #29
Bah! It's the second half of a crossover with Action Comics, so half the story is already missing. Lex Luthor hired the Six to help him get rid of immortal caveman Vandal Savage — father of Six member Scandal Savage. They're all inside one of Luthor's skyscrapers, and there are bombs involved and a lot of shooting and general nonsense.
Verdict: Thumbs down. The Six were reduced to guest-stars in their own comic — nearly all the focus was on Luthor and Vandal Savage. Not even Ragdoll acting deranged could save this one.
Today's Cool Links: