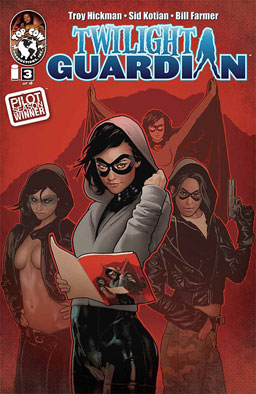 Twilight Guardian #3
The Twilight Guardian has returned from her trip to the comic convention with an unexpected contact — a comic book publisher who wants to publish comics about her? He sends her several pitches for the new comic, which we get to see during the course of the story — they're all relentlessly Image-in-the-'90s. Her patrols around her nine-block area in the suburbs continue, with the usual share of weird paranoia — including a bunch of kids playing with firecrackers after midnihgt, the Guardian taking an unexpected nap and waking to find mud on her shoes, and a close encounter with someone who might be her nemesis the Dusk Devil — but he mysteriously vanishes into thin air. But none of that compares with the person she eventually finds inside her house.
Verdict: Thumbs up. So very, very weird. I still can't decide if the Guardian is merely delusional and paranoid, or if something very strange is happening to her. Hopefully, we'll find out in the upcoming final issue of the miniseries.
Avengers Academy #11
It's the Return of Korvac! Who's Korvac? Honestly, no one cares. He was one of those random interchangeable all-powerful cosmic villains who littered the streets during Marvel's Silver/Bronze Age. But he's returned, and we're supposed to be very excited about that, mostly because Marvel says we should. He's come looking for his ex-wife, Carina, who Veil just pulled out of an interdimensional limbo because she thought she was the Wasp. Carina wants nothing to do with Korvac, but that doesn't stop him from showing up and shooting energy blasts around. The Avengers show up to try to beat Korvac down, but he's much too powerful for them. Jocasta takes Carina and the kids from Avengers Academy and hides them in a room that randomly jumps around to other dimensions to keep it hidden. And Carina reveals that she has extremely powerful powers over time and space, and he believes that the Avengers Academy kids are the only people who can stop Korvac.
Verdict: Thumbs up, despite the "OMG KORVAC" fakery. It's got a nicely epic feel, which is something this series hasn't had a lot of yet, and it's got a nice cliffhanger at the end, too.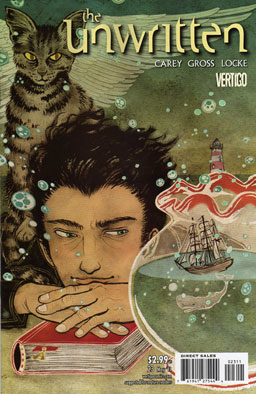 The Unwritten #23
Tom Taylor has been swallowed by a whale, along with his winged cat Mingus, Baron Munchhausen, Sinbad the Sailor, Pinocchio, and Jonah. They can't get out, no matter what tricks they try. When Tom finally locates the whale's heart, Munchhausen hatches a plot to kill the whale with a cannon and explosives, but he loses the will to destroy the beast. And Tom begins to question whether the whale is actually a real animal at all — more like a symbol for all the world's readers. But will this allow him to return to the real world again, or to learn the principles of magic?
Verdict: Thumbs up. Just another great issue of this series. Loved how they used all the public domain characters — they were personable, funny, and they all made good sense for the plot. I actually hope we'll get to see some of them again.