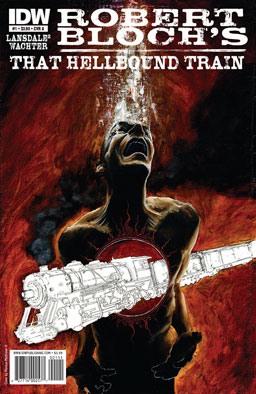 Robert Bloch's That Hellbound Train
Well, here's something I wasn't expecting — a comic based on a classic story by Robert Bloch, adapted by Joe R. Lansdale and John L. Lansdale. "That Hellbound Train" has been one of my favorite old stories for decades — it even won a Hugo Award in 1959. So this looks like it might be a fun surprise.
Our lead character is Martin, the son of a railroad man who filled his head with stories about the Hellbound Train, a ghost locomotive that carried the souls of the damned down to Hell. Martin's dad was a heavy drinker after his wife ran off with another man, and he died one night after being hit by a mysterious train. Orphaned, Martin was pushed into an abusive orphanage, which he ran away from. After that, he made do with small jobs and petty theft. And then one night, he meets up with a monstrous train out in the middle of nowhere, with a conductor who lights his lantern by blowing on the wick. The conductor offers him a special watch — all he has to do is stop the watch, and time will stop for him. He'll be able to choose his moment of greatest happiness, stop the watch, and that moment will go on forever. Not a bad deal, right? Right?
Verdict: Thumbs up. So far, this story has all the magic I remember from Bloch's original. And Dave Wachter's artwork is gloriously, horrifically beautiful — the Hellbound Train is a gigantic, bloody, smokey, sticky horror, and it's just flat gorgeous. I've got high hopes for this one.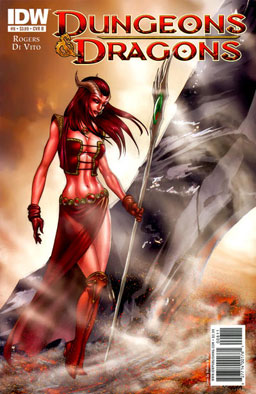 Dungeons & Dragons #8
Adric Fell and his band of adventurers are trapped in the Feywild, where the Faeries, both good and bad, hang out. It's a wildly dangerous place — filled with monsters, stuffed with dangerous magic, and unhinged from time. After the group saves a gnome and kills the quicklings trying to eat him, they find themselves betrayed, drugged, and strung up to distract the invading Fomorian armies while the gnomes flee to a safer location. Will Fell and his group escape? Do they have allies in the Feywild? And are their allies just as dangerous as the invading monsters?
Verdict: Thumbs up. Great action and story, and the dialogue here is just plain fantastic. You're reading this, aren't you? You should be reading this.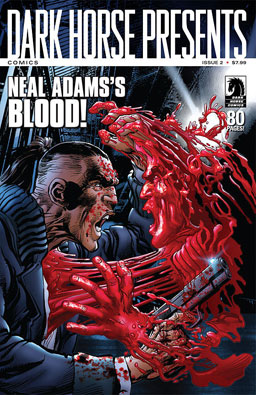 Dark Horse Presents #2
The revival of Dark Horse's great anthology series continues, with stories ranging from: A new story about Concrete by Paul Chadwick; Robert Love and David Walker's story about a small boy in a post-apocalyptic hell; Neal Adams ongoing story about a hero that lives in people's blood; Howard Chaykin's tale of a schlubby assassin; Michael T. Gilbert's new story about Mr. Monster; and David Chelsea's oh-so-cool adventures of Snow Angel.
Verdict: Actually, thumbs down. I loved the Concrete and Snow Angel stories, but the rest were either not particularly good or entirely forgettable. Yes, even the ones with really awesome artwork. And I hope this gets better fast, because $8 is a lot of money to spend on an anthology series that doesn't deliver the goods.
Today's Cool Links: