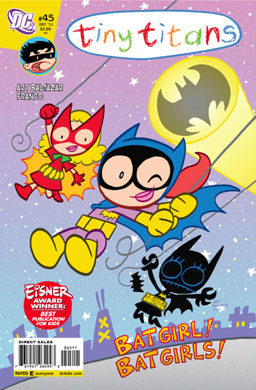 Tiny Titans #45
All the Batgirls are going to have a Batgirl Party. So that means Barbara is invited, Cassandra, Flamebird… and Stephanie, who finally gets her own Batgirl costume! Plus Starfire and Raven also get some Batgirl costumes so they can attend. Robin isn't real happy about this, but Batman gave the party his blessing, so what can ya do? We also meet Pantha, the soccer-loving… well, no one seems to know what kind of critter she is. We're pretty sure she isn't a bat, because the bats in the Batcave insist that she isn't. Elsewhere, Coach Huntress's soccer team isn't doing so well against Coach Lobo's team. And who does Coach Lobo have on his squad?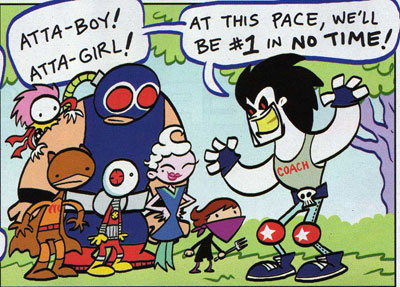 Just the Tiny Titans versions of the Secret Six, that's who. Lookit, Tiny Scandal is adorable.
Verdict: Thumbs up. This one is worth the cover price not only for the Secret Six, but for Starfire and Raven's Batgirl costumes.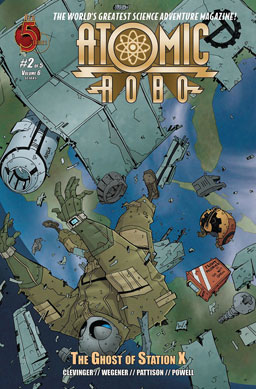 Atomic Robo: The Ghost of Station X #2
Last issue, Atomic Robo and his employees managed a short-deadline rescue for astronauts in danger. But there were no astronauts, just a collision with a satellite, leaving Robo facing a long and deeply unsafe fall from low-earth orbit to a catastrophic crash landing. Robo's pilots manage — barely — to catch him before he falls into the ocean, but he came really, really close to dying or having his atomic batteries meltdown. When his team finally has him rebuilt days later, he gets a call from NASA — they never called him about a shuttle mission in danger because the space shuttle was never in danger. Someone just tried very hard to kill Robo and his company…
Verdict: Thumbs up. A very tense, suspenseful issue — the beginning is a hair's-breadth miracle rescue which is one of the best things I've read in a comic book in weeks, and the rest is the beginnings of several interesting mysteries. Definitely a fun read — if you aren't reading this, you should be.
Today's Cool Links: