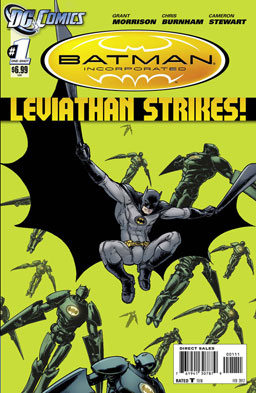 Batman Inc.: Leviathan Strikes! #1
There is so much stuff going on in this comic, people. SO MUCH STUFF!
First things first: This is set before Flashpoint and before the DC Reboot! HUZZAH! It's a Christmas miracle!
We get Stephanie Brown as Batgirl one more time, infiltrating a sinister finishing school where the students are trained to be assassins. We get Barbara Gordon as Oracle one more time, organizing all the Batmen all over the planet. We get Batman stuck in some kind of bizarre drug/time-travel hallucination as he tries to battle Otto Netz. We get betrayals and double-agents and sacrifices and mind-control and old friends and old enemies. And we find out who's really running Leviathan. Is it Jezebel Jet? It's Jezebel Jet, isn't it?
Verdict: Thumbs up, people. Oh, mercy, just to see another glimpse of the pre-Reboot continuity. That alone is worth a thumbs up. Plus Stephanie Brown, Oracle, Dick Grayson as Batman, and a chance for even more next year? That's solid gold, baby.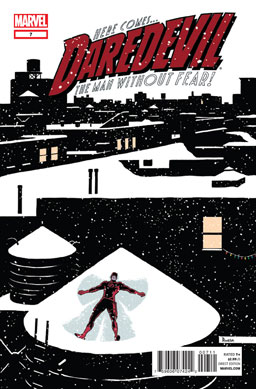 Daredevil #7
After the office Christmas party, Matt Murdock volunteers to escort some blind kids from a local school on a field trip. Unfortunately, there's a crash in the middle of a blizzard, and Daredevil has to lead the kids to safety. Easy-peasy, right? Nope, all the snow messes with DD's radar senses, and his injuries from the crash have got him in danger of bleeding out. Can a blind, injured superhero save a bunch of kids in a raging snowstorm when he has no idea where he is or where to find safe shelter?
Verdict: Thumbs up. Nicely tense storytelling, beautiful art, fun dialogue, and an unexpected challenge for the Man without Fear. If nothing else, this comic is worth getting for Matt Murdock at a Christmas party wearing an "I'm Not Daredevil" sweater.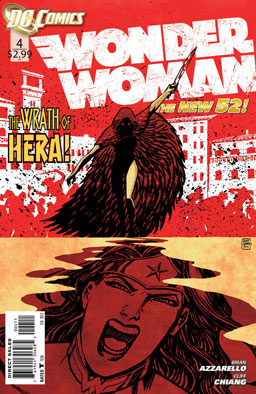 Wonder Woman #4
While Wonder Woman soothes herself from abandoning Themyscira by taking in a London rock show, the gods plot against her, and Hera herself prepares to revenge herself upon the Amazons.
Verdict: Ehh, thumbs up. Not a lot happening here, really. But I enjoyed the idea of Ares as an old man hanging out in war zones. And Diana hanging out in a headbangers club was pretty cool, too. If I've got a serious disappointment, it's that Hippolyta may now be written out of the series, and that's just way too early for that to happen.
Tiny Titans #47
Bumblebee attends a meeting of the Team Nucleus club and is looking forward to getting her Babysitting Patch. Mrs. Atom offers to help out, so they volunteer to take Damien, Jason Toddler, Kid Devil, Arthur Jr., and Miss Martian on a trip to Metropolis. Too bad that they lose all the kids in the city almost immediately! Can Bumblebee and Miss Martian round up the rest of the kids? Or will Bee have to do without her new patch?
Verdict: Thumbs up. Much humor and lunacy and cuteness all over the place here. Y'all know why I love this series already, okay?!
Today's Cool Links: