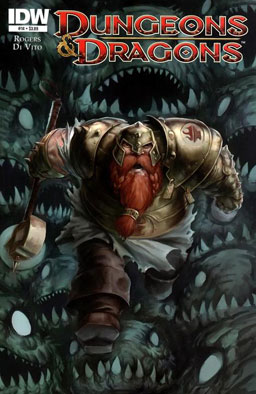 Dungeons & Dragons #14
Khal the dwarven paladin has been accidentally struck down by his girlfriend Danni's crossbow in the midst of an attack by the monstrously creepy foulspawn. But never fear — once the foulspawn are repelled, it's revealed that a few crossbow bolts are no match for good dwarven armor. Danni has been stuck down here with a small group of dwarf explorers, thanks to the foulspawn, the kruthiks, and other monsters. Adric Fell and the rest of the adventurers check out the temple and find a clock — a very, very large clock, counting down to some sort of probably awful cosmic event. Further exploration reveals some Escher stairs and a possible way out. Unfortunately, they also discover that most of the dwarves are actually already dead, and Danni's companions are… something else. And when they reveal to Danni that they know this, Danni goes a leeeetle bit berserk. Could things get worse? Yeah, once the foulspawns' master finally shows up, things can get worse.
Verdict: Thumbs up. Outstanding stuff — amazing suspense, revelations, and cliffhangers, great dialogue, and a few really hilarious situations. This is really good stuff — I hope more of you are reading this.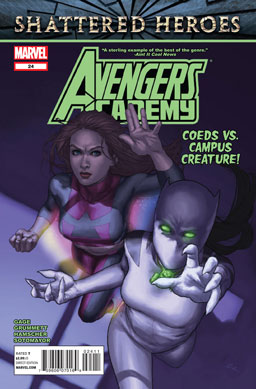 Avengers Academy #24
Reptil has been mindswapped with his future self, who's working against the best interests of the Academy because he's trying to preserve his version of the future. And he's willing to help Hybrid, an alien monster who's part mutant, part Dire Wraith, and all evil. Reptil's future can only happen if Hybrid kills half the students, and Reptil gets busy sending students and teachers into Hybrid's room at the Academy. Will White Tiger be able to resist Hybrid's mental powers, or are all the students doomed?
Verdict: Thumbs up. I'd never heard of Hybrid before, which seems a bit strange 'cause he seems like a really excellent villain. What I really like about this issue is that, even as the main storyline is going on, we still get some character details on White Tiger and even a couple of the background characters.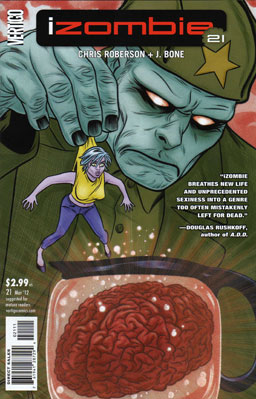 iZombie #21
Gwen has been captured — if captured is really the right word — by the Dead Presidents, a bunch of monsters who work for the government. Agent Kennedy — a zombie like Gwen — gives Gwen a brain smoothie 'cause it'd been a while since she had gotten to eat any brains. Galatea — half Dr. Frankenstein, half Frankenstein's monster — conspires with Kovsky, a disembodied brain in a coffee maker, and his zombie servant. Spot finds himself captured by a leopard woman — who is actually Amon's shapeshifted leopard — and he discovers that they have some really bad plans for him. As the Dead Presidents prepare to move against Galatea, they get an offer of assistance from the normally hostile Fossor Corporation. Can they be trusted?
Verdict: Thumbs up. What did I love the most about this? J. Bone takes over art chores for one issue and produces something that looks like a more cartoonish Darwyn Cooke. It's an amazing change of pace for this comic, even if it's just temporary, and it makes me wish Bone got more comics work.
Today's Cool Links: