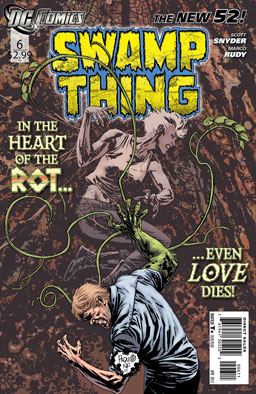 Swamp Thing #6
Things have gone worse than normal for Alec Holland. Abby Arkane has been captured and coccooned by the Rot, her corrupted brother William is in full control of millions of twisted zombies, and the Parliament of Trees has been destroyed. Is there any chance for the Swamp Thing to save the day before Alec gets a chainsaw through the chest?
Verdict: Thumbs down. And I'm done with this one. I don't care if the art is nice. I don't care if the writing is nice. It's six months in on this title, and Alec Holland still isn't the Swamp Thing. Oh, of course we know that on the last page of the next issue, he'll finally become Swamp Thing, and in the issue after that, he'll finally get to the conclusion of this story. But honestly, I'm tired of being jerked around by this ultimately dull and dishonest comic.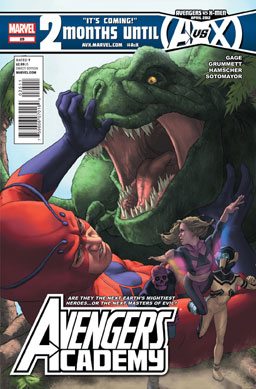 Avengers Academy #25
It's now an all-out battle, with half the students and teachers at Avengers Academy vs. Hybrid, half-human, half-Dire Wraith, and his mentally enslaved student minions. Reptil is the only student who manages to throw off the mental domination, and that's just because he's been mindswitched with his future self. Meanwhile, in the future, the present version of Reptil, in his own future body, escapes from captivity just in time to learn that he had a child with Finesse and may have a chance to help his teammates in the past. Hybrid shuts down Hank Pym's powers — but that leaves his scientific mind intact, which means he can figure out a way to stop the monster. But can he do it before it's too late?
Verdict: Thumbs up. We go from present to future to present, we go from huge fight scenes to intimate family moments and back to fight scenes. All that plus a big plot twist. And it all works just fine. Impressive work from Christos Gage and Tom Grummett.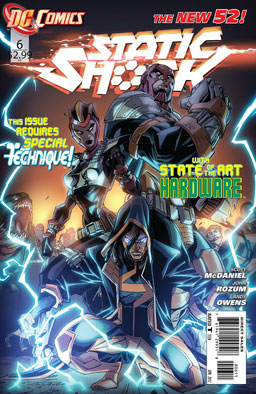 Static Shock #6
There's a lot of stuff happening, and I couldn't really keep track of it all. Hardware and Technique from the classic Milestone Media comics get to make an appearance, there's a interdimensional portal, or maybe a time-travel portal, I couldn't really tell. There's some guy who cloned Static's sister for some reason and now wants to throw her through the portal for some reason. There's a second version of Static who shows up to save the day, then disappears between pages. And Static's cloned sisters, who previously hated each other with absolute burning fury, decide they really love each other because they're siiiiiisters.
Verdict: Thumbs down. Trying to make sense of the plot here was like sustaining brain damage. I don't know whether to drop this one because it's awful, or stick with it because it's about to get cancelled and I may as well have the complete run.
Today's Cool Links: