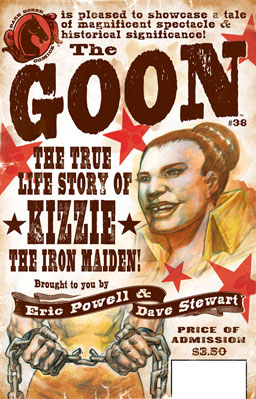 The Goon #38
Eric Powell takes a break from the usual mad shenanigans to give us a look at the life of Kizzie, the Goon's aunt, a circus strongwoman who raised him from infancy. We follow her from childhood, contending with the jeers of her schoolmates and the thuggishness of her brother Rooney, as she grows up to be a young woman, unusually strong from working on the family farm. She breaks her engagement with her fiancee because she unwisely falls for a conceited trapeze artist. Despite getting a job as the strongwoman, things don't go well for Kizzie — she has an abortion, her beau dies, she quits to get a factory job, and Rooney makes a return to foist off his unwanted child on her. Something familiar about this little tyke…
Verdict: Thumbs up. This one is just plain glorious. All I can think to say about it — just plain glorious. Why ain't more of you guys reading "The Goon"?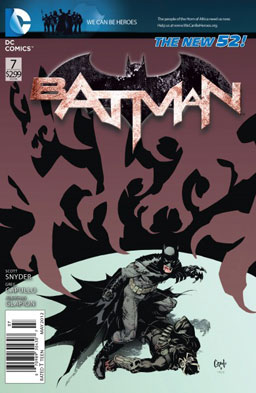 Batman #7
If you thought we were going to get a break from the Court of Owls, you were way, way wrong. Batman gets his heart restarted by some random fangirl with a car battery and jumper cables — something that seems medically unsound — and makes his way back to the Batcave, where he learns that Alfred has already acquired the body of the Talon, the assassin who'd almost killed him. After an autopsy, Bruce reveals to Dick Grayson that the Talon's body was infused with electrum, which allowed the Court to resurrect him with electricity any time he was killed. And he also learns that the Talon was Dick Grayson's great-grandfather, and that Dick was initially chosen to be a Talon, too, before he was orphaned. And the Court is hardly down for the count — they plan to wage war on all of Gotham City.
Verdict: Ehh, I really don't know. It all seems fine, well-written, you name it. I'm just not so fond of the way the Court of Owls is turning into a way to rewrite Bat-continuity willy-nilly.
B.P.R.D.: Hell on Earth – The Long Death #2
Johann Kraus has let his obsession with capturing or killing Ben Daimio get away from him. While he was stalking Daimio for destroying Johann's old temporary body while he'd transformed into a jaguar demon, Daimio ends up killing almost an entire BPRD squad. He leads a small squad back into the wilderness, and they meet up with a wendigo, which uncharacteristically does not attack them. When the squad comes across the bloody remains of a family slaughtered while camping, Johann is able to possess one of the more intact corpses to take the battle to Daimio, with the aid of a magic dagger.
Verdict: Thumbs up. A bloody character study of two people who have slid a long way down the scale from their best moments. Excellent suspense, very nice creepiness, and outstanding art, too.