The Goon #39
Ladies and gentlemen, may I introduce you to the comic that is likely to win some Eisners and Harveys for Eric Powell next year?
Well, Powell, creator of "The Goon," has finally decided to sell out. He wants money, he wants collector speculation, and he wants some mass-media controversy. So the Goon reveals his new superhero costume and his new overblown superhero origin, and he takes Franky as his scantily-clad sidekick. Then they change costumes and origins a few pages later, and a few pages after that, and a few pages after that. Will Powell finally get the media coverage he craves, even with the giant splash pages, the Thong of Nobility, angst-ridden monologues, vector graphics software, gratuitous ass-shots, multicolored Goons, variant covers, inevitable betrayals, and constant reboots?
Verdict: Thumbs up. It's a pretty sure bet that Eric Powell is never going to work for DC Comics again, not after completely savaging the company this way. From the perfect Dark Horse With A Band-Aid logo on the cover to the DiDioesque/Johnsian plot twists and Jim Lee costume designs, this was a joy to read from beginning to end. Seriously, it's a near-certain shoo-in for awards next year.
My only question is this: Are we seeing the beginning of the long-awaited backlash on DC's Reboot? Or just a brief flare-up of dissent?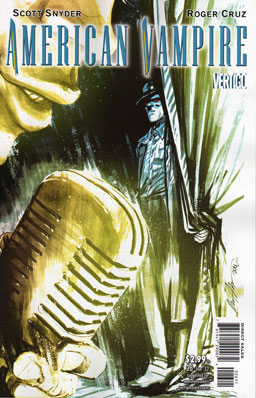 American Vampire #26
A new storyarc, this time focusing on Calvin Poole, a character we last saw all the way back in Issue #19. Calvin used to be a member of the Vassals of the Morning Star, a vampire-hunting organization, and he ended up getting turned into an American vampire when he was infected by a broken glass vial of Pearl Jones' blood. Now he's wandering the American South and occasionally killing and eating racist rednecks. He learns of an integrated doo-wop group and gets recognized by one of its members. He gets warned off by some teenagers who say he and the doo-wop group will die if they stay in town, and he gets some protection from a group of veterans. But the danger for Calvin is that he really has no idea who his friends and enemies really are…
Verdict: Thumbs up. I was afraid Calvin Poole had been completely forgotten — glad we'll get to see a story focusing on him — and with a setting in the Deep South of the 1950s, this story should be juicy in more ways than one.
Today's Cool Links: