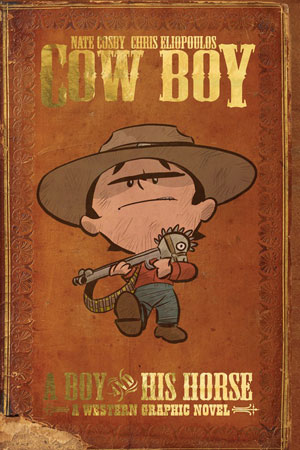 Cow Boy: A Boy and His Horse
Here's a nice little graphic novel that was previewed in Archaia's awesome mini-hardcover Free Comic Book Day collection a few weeks back. I wasn't sure that it'd ever make its way down to Denton, but I was able to grab hold of it last weekend, so let's give it a whirl.
It's an all-ages Western, written by Nate Cosby and illustrated by Chris Eliopoulos, with a few short mini-features by Roger Langridge, Brian Clevinger, Scott Wegener, Mike Maihack, and Colleen Coover.
It's the story of a ten-year-old boy named Boyd Linney, who's out roaming the Wild West all by himself. Boyd is a bounty hunter, dedicated to capturing his own family, all notorious outlaws and scallywags, and bringing them to justice. His only allies are a horse and his Horse — a hobby horse that he's converted into a shotgun.
So we get to watch Boyd go after his own criminal kin, including his sad-sack father, his low-down brother, and more besides. We get a look at his awful childhood, as his rotten relations made his sleep in the pig pen. We get to watch him accidentally make a man's life worse by defending him from bullies. We get to watch him foil crooked lawmen, and we get to see him have a few fleeting moments of happiness before he's left on his own again.
Verdict: Thumbs up. Let's talk about the art. Hopefully, y'all are familiar with Chris Eliopoulos by now — he's got a simple, straightforward, cartoony style, which I've told y'all before is the best way to make a comic that's both fun and emotional. There is nothing more hilarious than watching Boyd gruffly grumble his way through some outlandish feat of derring-do. There's also nothing more heart-wrenching than watching him — or anyone else — choke back tears.
And there are tears a-plenty. This is an all-ages comic, but I think there's a chance some kids may not be able to handle the emotional content, especially if they have abandonment issues or if they're a bit clingy. On the other hand, other kids are going to be completely gleeful about the fantasy of a little kid roaming the Wild West and blowing up saloons. Buyer beware, parents — know your kids, read the book, decide if your young-uns will be okay with it.
For all the emotional heart-tugging, this is also a very funny comic, with buckets of humor both whimsical and more down-to-earth. There is also a wagon-load of action and thrills. And it's a beautifully made book, a hardcover that's just a joy to hold in your hands. Cosby, Eliopoulos, and Archaia have done an outstanding job with this one.
You may want to get it for your kids. You may want to get it just for you. But I do think you should go pick it up.