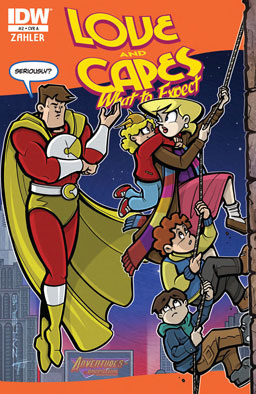 Love and Capes: What to Expect #2
Abby and Mark continue their pregnancy preparations, including volunteering to babysit a friend's baby to see how they handle pre-parenthood. Things don't go as planned, though nothing truly disastrous happens.
Verdict: Thumbs up. Okay, not a whole lot happens in here. No smackdowns against crazed supervillains, no terrible crisis to solve, no danger or derring-do. But it's a good, fun, funny story, so heck yeah, it's a thumbs up.
Worlds' Finest #0
We get a look back on Power Girl and the Huntress when they were Supergirl and Robin on Earth-2. Robin has her debut adventure, with the permission of her mother, Catwoman (though daddy Batman disapproves). Superman trains Supergirl for potential attacks by Apocalypse. Tragedy brings the two fledgling heroines together.
Verdict: Thumbs up. Very nice writing by Paul Levitz, and amazingly appealing art by Kevin Maguire. Honestly, I'd rather read about Robin and Supergirl than almost anything else DC is publishing right now.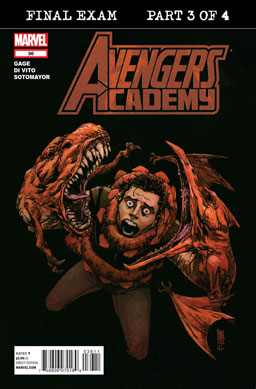 Avengers Academy #36
Jeremy Briggs has depowered most of the Academy members, and he's planning on depowering the rest of the world's heroes and villains, too. Hazmat has gotten her powers back, Striker has gotten his face scarred, Mettle gets his powers back, but only letting Hazmat burn his flesh away, and White Tiger and Reptil have to persuade their own magic powers to come back to them. Will they be able to get the rest of the team's powers back? Will they be able to stop Jeremy from releasing the Clean Slate virus?
Verdict: Thumbs up. I like these characters a lot. Even without their powers, they're a lot of fun. Also, Hazmat and Mettle are just so awesome. I'm gonna miss this series so very much.