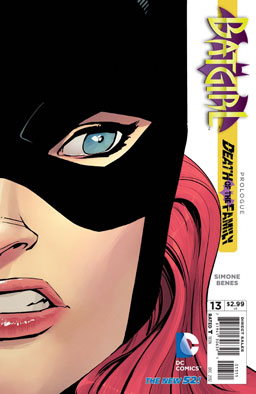 Batgirl #13
Okay, first of all, I liked this story. But there were some serious problems entirely outside of the control of the writer and artist.
First of all: Hey, you like that cover? It's pretty sweet, ain't it? Well, they actually cover it up with a big gruesome Joker image. In fact, it's an actual die-cut cover. Yes, just like in the '90s! WHO COULD POSSIBLY IMAGINE THAT THE REBOOTED DC COMICS WOULD USE SOME TIRED GIMMICK FROM THE '90S?!?
Second, there's a die-cut Joker cover, there's a label that says this is part of the Joker-centric "Death of the Family" crossover, but the Joker isn't in this issue at all. I don't mind that too much, because I wasn't really looking forward to this crossover. But if you're gonna roll out the bells and whistles for the Joker, don't frustrate the folks who are looking forward to the crossover by not including the Joker.
Third, ya know the problem with interrupting an ongoing storyarc with an unrelated #0 issue? Everyone who was reading the comic before has two months to forget about the ongoing storyarc. That's just a rude thing to do to the folks who are spending money on your comics. At least give us a "What happened before" page to remind us what happened before, okay?
Okay, as for the story itself: Batgirl has been stabbed by a villain named Knightfall who wants to clean up Gotham by killing anyone who commits any crime, no matter how minor. Barbara manages to fight her off and learns her backstory — she was poor little rich girl Cherise Carnes, whose boyfriend killed her family for kicks. And she decided to accept blame for the murders so she could get into Arkham Asylum and learn the skills she needed to torture her murderous boyfriend. Can an injured Batgirl beat the lunatic villain who has enough wealth to walk out of any prison in Gotham?
Verdict: Thumbs up. Yes, even with all those problems I mentioned before, it's still a good story. It's nice to see Barbara kick a little ass, and Knightfall's backstory makes her an even more twisted villain than she'd already appeared. And I like the multitude of future storylines that are being set up. So yes, a thumbs up. It's not Gail Simone's or Ed Benes' fault that DC editorial are nincompoops.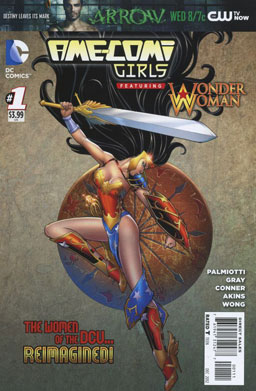 Ame-Comi Girls Featuring Wonder Woman #1
I almost didn't get this, but I'd heard positive reviews before, so I decided to take a chance. The series is based on a bunch of collectible statues put out by this Ame-Comi company that feature DC's female characters wearing skimpy costumes and looking more anime-inspired than normal. They often look, well, a little trashy, but this series, which has previously been available in digital format only, has gotten fairly good reviews — and it's written by Jimmy Palmiotti and Justin Gray, and partially illustrated by Amanda Conner, all of whom are really pretty awesome.
So the first issue focuses on this alternate version of Wonder Woman. She's still just Princess Diana of Themyscira, the furious, haughty daughter of Hippolyta, Queen of the Amazons. Diana's an outstanding warrior, but her mother is very protective, and when the island is invaded by troops from Kasnia, Diana has to sneak out to participate in the battle. Angry that her daughter defied her orders, Hippolyta decides to agree to a pact with America to protect them from future invasions — and orders Diana to become Themyscira's official ambassador to the world. And her first appearance at the United Nations is interrupted by an attack from a feline assassin called the Cheetah.
Verdict: Thumbs up. Aside from the usual excellent writing by Palmiotti and Gray, and the excellent art by Conner and backup penciller Walden Wong, I'm pretty much going to enjoy any comic in which the lead character complains angrily about the stripperiffic costume she has to wear. It's funny, it's action-packed, it's clever, it's aware of its own craziness. I believe I approve.