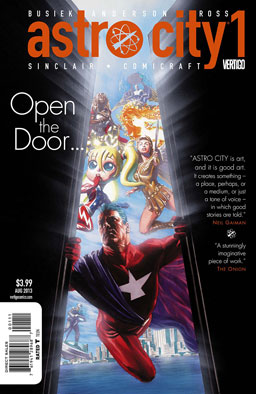 Astro City #1
Great news! Astro City is back on the map! No longer at Wildstorm (since Wildstorm no longer exists), it's now being published as a Vertigo comic.
Our re-introduction to the city comes through the narration of a purple-skinned guy called the Broken Man. He addresses the readers directly, trying to involve us in some ill-defined scheme to prevent a future disaster. We also get introduced to a new character — American Chibi, a new superhero who looks kinda like chibi anime characters. She encounters a mysterious door floating in midair over the Gaines River, but she — and none of the other superheroes in town — are able to get the doors to open. Meanwhile, we run into Ben Pullam, a character we met waaaaay back in the first issue of the second "Astro City" series. (You can find it in the "Family Album" trade paperback.) Back then, Ben was a widower with two young daughters — today, he's a good deal older, and his daughters are grown up. They've gotten together for an overdue visit — but what is Ben's connection to the mysterious being who finally emerges from the door over the river?
Verdict: Thumbs up. The Broken Man is a tad irritating, but I assume that's a lot of his purpose. Aside from that, this is all the stuff you love about Astro City — fun superheroics, some innovative twists on the superhero formula, normal people getting the spotlight, and an excellent story and art. If you ain't reading this, you're stone crazy.
(I do wonder if this is really a Vertigo comic. Granted, there's no way it should go under the DC banner, which is apparently solely devoted to the New 52 — and makes almost everything associated with it suck — but it seems odd to see it here as part of DC's mature readers line.)
The Hypernaturals #12
The last issue?! Bah! But how do things turn out? Sublime is preparing to kill the Quantinuum AI — which will end up wreaking havoc across the galaxy. Shoal reveals that the Quantinuum is a refugee from another universe — but it's insane, desperate to help others at the same time as it wants to kill itself, so it creates superheroes and supervillains. Elsewhere, the rest of the Hypernaturals team has to fight off an army of supervillains — actually normal people in the teleportation network who've been transformed into monsters. Can the team stop all the bad guys? Can Shoal and Thinkwell save the Quantinuum?
Verdict: Thumbs up. A very nice end for the series. Lots of action, great dialogue and characterization, and all around fun stuff. I'd really love it if this series was continued, but I guess that depends on whether Dan Abnett and Andy Lanning want to keep it going.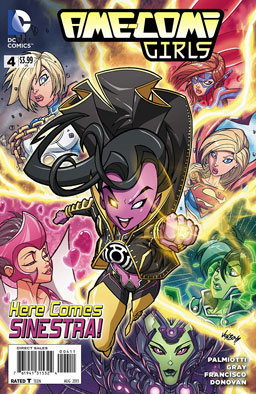 Ame-Comi Girls #4
Power Girl and the new Green Lantern fight Star Sapphire for the heart of Jimmy Olsen. Avril Palmer — the Atom — fights off the Brainiac infection in Supergirl's brain while Supergirl and Power Girl punch each other. And Sinestra gets hold of both a yellow power ring and a black one.
Verdict: Thumbs down. I'm just not even a little bit interested in this series anymore.
Today's Cool Links: