Halloween's over, but we've got two more horror-themed comics to review…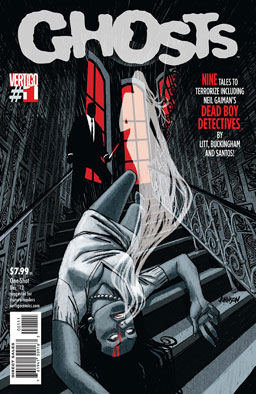 Ghosts #1
This year's Halloween one-shot from Vertigo features comics from some big names, some not-so-big names, and one really, really big name.
The star of the show is the late Joe Kubert's final comic art — "The Boy and the Old Man," which Kubert had finished penciling but not inking or coloring. It's printed here with only Kubert's rough pencils and computer lettering to make it readable. Besides that, we've got a story about a kid who meets his own ghost — or at least the ghost of the life he could have been leading. We get a story of the Dead Boy Detectives from "Sandman" (but not written by Neil Gaiman), a story about a couple who become ghosts to each other, a tale of Satanic chili, a science fiction tale from Paul Pope, Gilbert Hernandez's story about "The Dark Lady," and Geoff Johns and Jeff Lemire writing about some brothers who hire themselves out haunting homes.
Verdict: I think, on the whole, thumbs down. Some of this was quite good — Kubert's story is worth reading just to see how good he still was so late in life. Al Ewing and Rufus Dayglo's "The Night After I Took the Data Entry Job I Was Visited by my Own Ghost" was clever and amusing, Cecil Castellucci and Amy Reeder's "Wallflower" was entirely beautiful, and Neil Kleid and John McCrea's "A Bowl of Red" is designed to make you want to eat more chili. But the rest were either completely forgettable, nonsensical, or criminally dull.
American Vampire #32
Pearl has been captured by her old friend Hattie Hargrove, who's now running the Hollywood vampire covens. And she and Skinner Sweet plan to invade the headquarters of the Vassals of the Morning Star and kill everyone inside, including Pearl's husband Henry. Is there any chance for Pearl to escape and save the day?
Verdict: Thumbs up. Hopeless situations abound, betrayals, violence, trauma, and bright, sunlit horror. It's a great read. If you love horror and you aren't reading "American Vampire," you're outta yer fool mind.
Today's Cool Links: