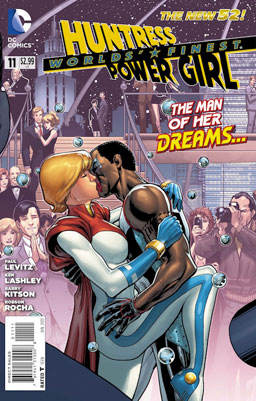 Worlds' Finest #11
Huntress works to trace the source of the high-tech weapons and mercenaries that have often been set against them, quickly deducing that they all have their source with Apokalips. Karen Starr, meanwhile, is preparing for a tech convention in Las Vegas. Helena attends as well, as they're both looking forward to talking to Michael Holt, better known as Mr. Terrific, who has been missing for quite some time. So what has Holt been up to, and what dire secret is he hiding?
Verdict: Thumbs up. Pretty good stuff all around. Nice investigative stuff for Huntress, and it's very interesting to see the reveal on the last page.
The Hypernaturals #10
Thinkwell remembers an incident from his past, back when he was new to the Hypernaturals team, when he tried to interface directly with the Quantinuum hypercomputer that powers civilization in the future. His mind was overloaded by the vast knowledge he gained, and he encountered vast nonhuman intelligences on the edge of existence. But he'd lost all memory of this until just recently. He brings Shoal into his confidence and asks him to watch him to make sure he's not being controlled by any of the alien intelligences.
Sublime is still not trusted by most of the team, and he's very frustrated that Thinkwell believes hyperintelligent aliens are behind the plots against them, rather than the Quantinuum itself. Halfshell finds herself being pressured by the company that owns her armor to make a bid for team leadership, and Thinkwell and Shoal pay another visit to the Quantinuum, only to discover something they can't remember. And the Hyperbads — who may be the genetically altered and mind-controlled former Hypernaturals are making a serious effort to destroy the galaxy…
Verdict: Thumbs up. Really outstanding far-future sci-fi superheroics. Great characterization and a really excellent sense of mounting pressure and suspense. Y'all check it out, 'kay?
Ame-Comi Girls #2
The unified team of superheroines and supervillainesses take on Brainiac above Earth while Power Girl takes her on below the Earth. And even if they can stop Brainiac, there's still the matter of how to cure Supergirl from her Black Kryptonite infection. And how to deal with the parents of Batgirl and Robin, who don't want their daughters fighting crime…
Verdict: Thumbs up. The battle against Brainiac was pretty short, which I considered a really good thing, 'cause I was waaaaaay tired of the Brainiac storyline. And I also liked the aftermath with dealing with the parents — it'll be interesting to see how they're going to get out of this very mundane threat…
Today's Not Particularly Happy Links:
Just obits today. First Roger Ebert, one of the nation's truly great writers.
Then Carmine Infantino, creator of an amazing number of comic book characters and the namesake of the world-famous Infantino Building.
And George Gladir, co-creator of Sabrina the Teenage Witch.